Veggie Sticks with Marinara Sauce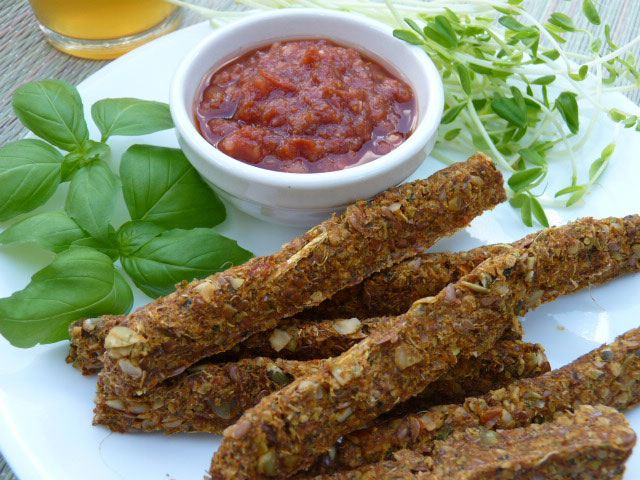 Here's another way to use up the pulp left over from your morning juicing. Make it a kid-friendly meal, too, by shaping the veggie sticks into fun shapes or letters and numbers. You'll be surprised how quickly the food will disappear at mealtime!
Recipe Author: Beautiful on Raw
Preparation Time: 50
Serves: 4
---
Ingredients for the veggie sticks:
2 tightly packed cups of the pulp left from juicing carrots, celery, cucumbers, fennel, etc.
1 cup pumpkin seeds, soaked overnight and rinsed
2 medium tomatoes, chopped
½ cup water
2  tsp. Celtic sea salt
1/8 tsp. ground black pepper
½ cup ground flax seeds
2 Tbs. of fresh herbs, such as oregano, thyme, sage, or 1 tsp. of Frontier Italian seasoning
Ingredients for sauce:
1 cup sun-dried tomatoes, soaked and drained
1 cup strawberries, de-stemmed
1-2 medium tomatoes, chopped
½ tsp. Celtic sea salt, or to taste
2 cloves garlic, peeled and minced
Grind pumpkin seeds in a food processor, add the rest of the veggie sticks ingredients and blend well but to where the consistency is still a bit coarse. Using a French fries metal form, or with your fingers, shape the mixture into sticks about 5.5 inches long, or any other shapes you prefer on dehydrator trays, covered with non-sticky sheets, and dehydrate at 105 F for about 6-7 hours, turning the sticks over midway through the drying process, until they are dry on the outside, firm to hold, but are still retaining some moisture inside. Combine the sauce ingredients in a food processor and pulse until blended but still a little chunky. Serve as a dipping sauce or a pour-over sauce with the veggie sticks. Note: Preparation time is 50 minutes plus time for soaking and dehydrating.
Ingredients: flax seeds, garlic, juice pulp, pumpkin seeds, strawberry, tomato
Recipe Type: Main Course