Raw Vegan Lasagna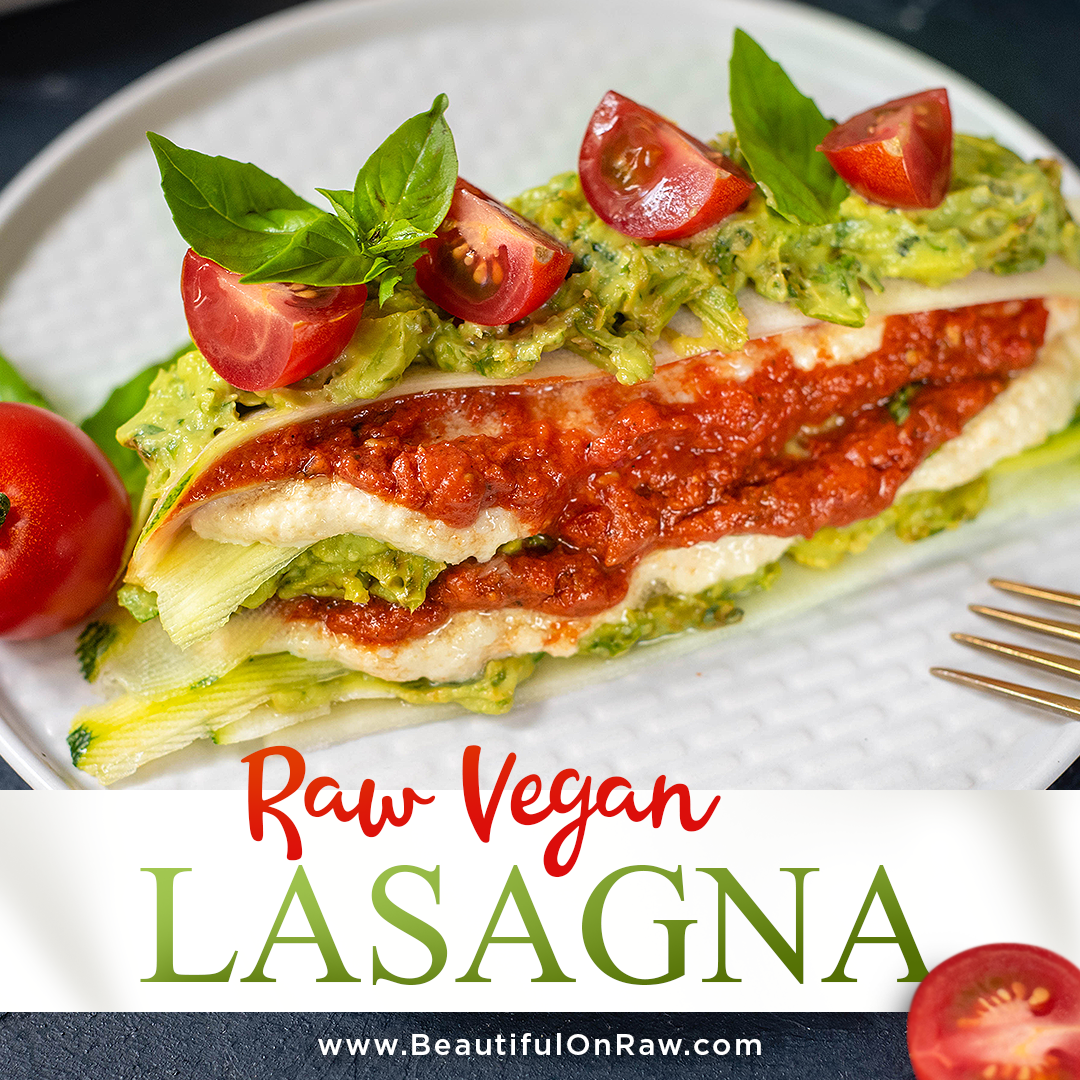 A rose by any other name…And so with this delectable dish. Call it lasagna, in the North American spelling. Or lasagne, as Europeans might. Or give it another name altogether, like Sliced Zucchini with Pesto-Tomato Sauce. Whatever you call it…fabulous…and nutritious.
Recipe Author: Beautiful on Raw
Preparation Time: 30 min
Serves: 2
---
Ingredients:
Creamy nut layer:
1/2 cup macadamia nuts, soaked
1/2 cup almonds
1 Tbsp lemon juice
1 clove garlic
1/2 tsp of pink salt
Pesto:
1 ripe avocado
1 cup fresh basil leaves
1/2 cup arugula
3 Tbsp olive oil
pinch of pink salt
Tomato layer:
1/2 cup sundried tomatoes
3 dates, pitted
1/2 cup cherry tomatoes
1 tsp smoked paprika
1/2 tsp Italian seasoning
pinch of pink salt.
 1 medium zucchini
Directions:
For the creamy nut layer process all ingredients together in a food processor and set aside. For the tomato layer mix all the ingredients in a food processor until they reach a creamy consistency. For the Pesto, combine all ingredients in a food processor. Cut the zucchini into thin slices, using a peeler. Put two slices of zucchini on a serving dish. Top by evenly distributing the nut layer. Cover with another two slices of zucchini and place the tomato layer on top. Cover with zucchini again and add the pesto. Repeat these steps to the desired height of your lasagna. Garnish with cherry tomato halves and a sprig of basil. Serve immediately.
Ingredients: sundried tomato, zucchini, macadamia nuts, avocado, Arugula
Recipe Type: Main Course