Eggplant Pizza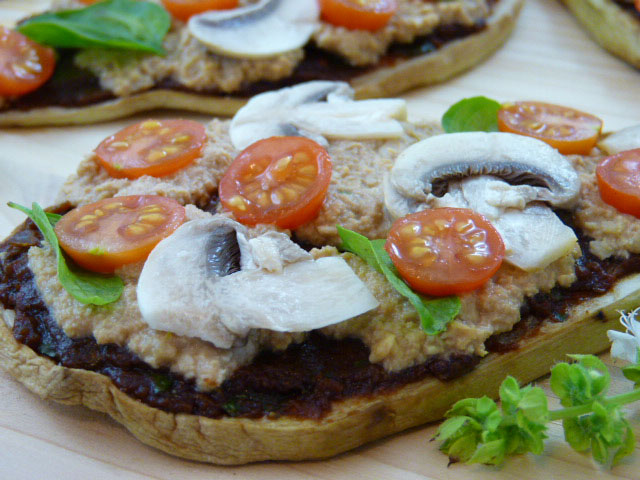 Pizza is on the menu today.  We will be using sliced eggplant instead of a traditional crust. Feel free to use your favorite raw toppings.
Recipe Author: Beautiful on Raw
Preparation Time: 30
Serves: 3
---
Ingredients:
1 medium eggplant, peeled and sliced lengthwise in thin strips
½ tsp. salt and the juice of 1 lemon for soaking eggplant and mushrooms
1 1/4 cup sun-dried tomatoes, soaked and drained, water reserved
handful of basil leaves, plus a few to garnish
¼ tsp. salt for cheese sauce and 1/2 tsp. salt for pizza sauce
1/2 cup soak water (leftover from the sun-dried tomatoes) for cheese sauce and 1 Tbs. of the soak water for pizza sauce
3/4 cup macadamia nuts, soaked and drained
1 clove garlic
5 button mushrooms, sliced
1 cup cherry tomatoes, sliced
Soak eggplant pieces in salted water with ½ of the lemon juice overnight. Place in a dehydrator at 105 F for 6-7 hours until eggplant turns soft and chewy. The eggplant slices will serve as individual pizza crusts. Soak mushrooms in lemon juice and salt for about an hour. Blend together sun-dried tomatoes, basil, salt and soak water to make pizza sauce. Transfer to a bowl. Make cheese sauce by blending macadamia nuts, garlic, soak water and salt. Spread pizza sauce on top of the eggplant slice, followed by cheese sauce and the toppings. If you prefer warm pizza, dehydrate for a couple of hours before serving.
Note: Preparation time is 30 minutes plus soaking and dehydrating time.
Ingredients: basil, eggplant, garlic, lemon, macadamia nuts, mushrooms, sundried tomato, tomato
Recipe Type: Main Course