Caprese-Style Zucchini Lasagna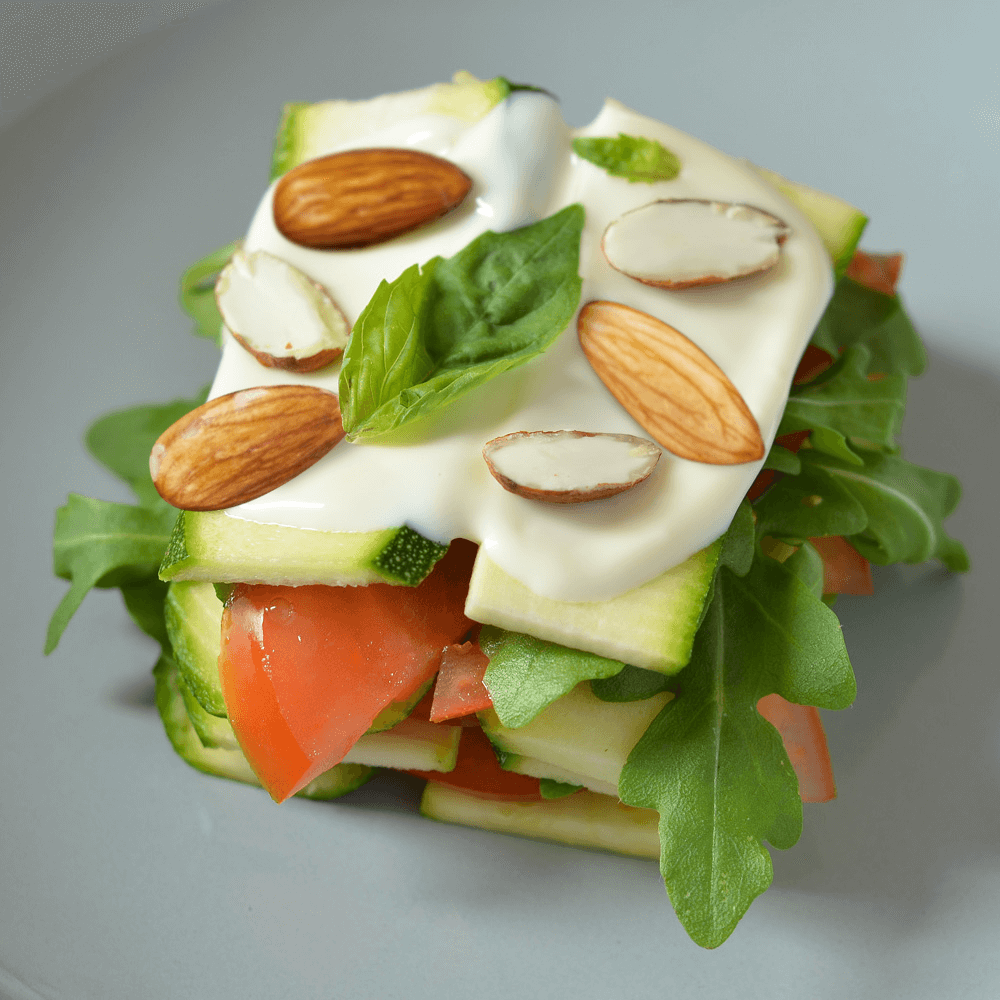 You'll find on my website quite a few sophisticated recipes for raw lasagna. But maybe you're new to raw food prep, shy about starting with complex recipes. Start here. This raw zucchini lasagna is easy. After this, you'll be ready to tackle a more involved recipe.
It's worth learning how to make raw lasagna in different ways. Let raw lasagna variations become a staple in your weekly menu. It's very healthy, filling, and delicious. More importantly, raw lasagna can help you push traditional noodles, spaghetti, ravioli, and other pasta right out of your diet.  
One extra benefit…Zucchini is 95 per cent water. So, it's wonderfully hydrating during those hot summer months!
Recipe Author: Beautiful on Raw
Preparation Time: 20 min
Serves: 2
---
Ingredients:
2 medium zucchinis, cut longitudinally in thin slices
2 tomatoes, cut into thin slices
1 cup arugula
1/4 cup basil leaves
4 Tbsp almonds, soaked overnight
1/4 cup almond milk
1 tsp lemon or lime juice
1 garlic clove, minced
1/2 cup cold pressed olive oil
salt, pinch of pepper to taste
Directions: Start preparing a creamy sauce. Place the almond milk, lemon juice, garlic, a pinch of salt, and a pinch of pepper in a blender. Add almonds to the blender. As you blend, add the olive oil gradually. Refrigerate for at least 15 minutes.
Assemble the lasagna. You can make small lasagna portions or make a single large one in a baking dish or casserole. For that, alternate layers of zucchini, tomato, arugula, basil, and creamy sauce. Repeat until all ingredients are used. Finish with the sauce and decorate with almonds and basil if desired.
Ingredients: zucchini, tomato, Arugula, almonds, almond milk
Recipe Type: Main Course