Chestnut Papaya Pudding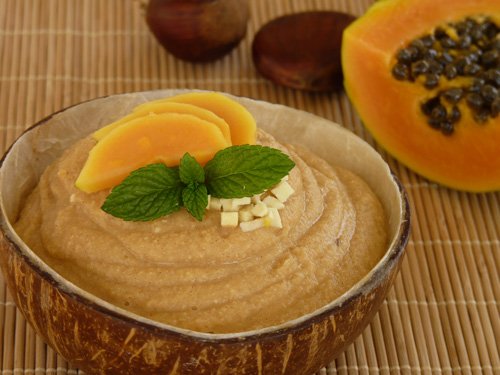 Use any fruit or berries you like in this recipe. A simple, quick and delicious way to use chestnuts when they are in season.
Recipe Author: Beautiful on Raw
Preparation Time: 15
Serves: 2
---
Ingredients:
1 cup shelled & peeled chestnuts
½ cup coconut water (young Thai coconut recommended)
¾ cup peeled and chopped papaya, seeds removed
½ tsp. ground cinnamon
Blend chestnuts and coconut water in a high-speed blender. Add papaya and cinnamon and continue blending until the mixture becomes creamy in texture. Transfer to a bowl, garnish with papaya, chopped chestnuts and mint leaves.
Ingredients: chestnuts, cinnamon, coconut, papaya