Chocolate & Coconut "Bounty" Bites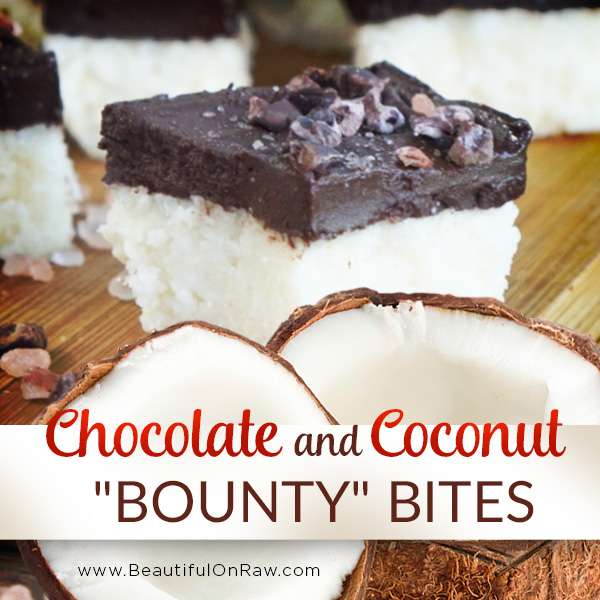 Talking about a tasty dessert that's super-easy to make! Keep it handy for the holidays.
Recipe Author: Beautiful On Raw
Preparation Time: 30 min
Serves: 6
---
Ingredients for top layer:
ž1 cup of raw cacao powder
4 Tbsp of coconut oil
1 Tbsp of honey
pinch of crushed pink Himalayan salt (or sea salt)
cocoa nibs for topping.
 Ingredients for bottom layer:
ž2 cups of shredded coconut
4 Tbsp of coconut oil
2 Tbsp of raw honey.
 Directions: Blend the bottom layer ingredients in a food processor. Spread the mixture on a small baking sheet lined with parchment paper. Chill in the fridge for 10 minutes. Mix the top layer ingredients until smooth, spread on top of the coconut layer, sprinkle with cocoa nibs and salt for extra flavor. Refrigerate for another 10 minutes. Cut into small squares and serve.
Ingredients: cacao powder, shredded coconut, coconut oil, raw honey
Recipe Type: Dessert