Sweet Sesame Crackers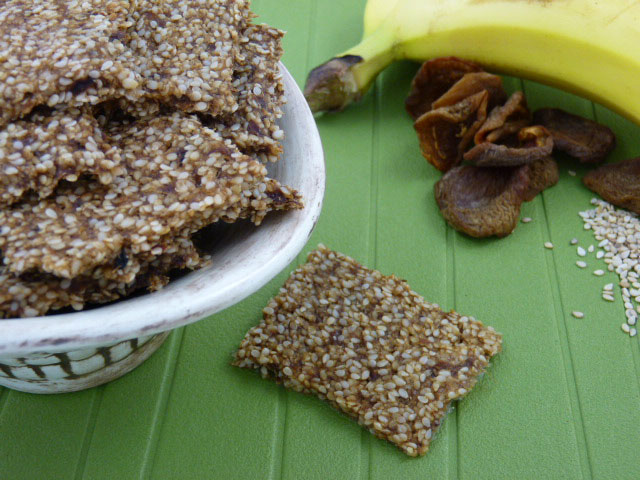 Here's the way to make the famous sesame crunch candy much healthier – make them yourself and make them raw!
Recipe Author: Beautiful on Raw
Preparation Time: 20
Serves: 4
---
Ingredients:
2 cups beige unhulled sesame seeds, soaked for 24 hours, then sprouted for another 24 hours
1 cup dried apricots, soaked for 3 hours, then drained
2 bananas, peeled and cut into chunks
Directions:
Place all the ingredients in a food processor and blend until well mixed. You will notice that the sesame seeds will remain whole and that's our intent. Using the spatula, spread the mixture onto Teflex sheets to make large squares approximately ¼ inch thick. Score it with the spatula into cracker-sized pieces. When dry, it will break apart along these lines. Dehydrate at 105 degrees for about 15 hours until crispy, flipping the crackers over half way through onto the perforated dehydrator sheets. Store in an airtight container in a cool place. Preparation time: 20 minutes plus soaking and sprouting time.
Ingredients: apricot, banana, sesame