Carrot Pumpkin Cake Donuts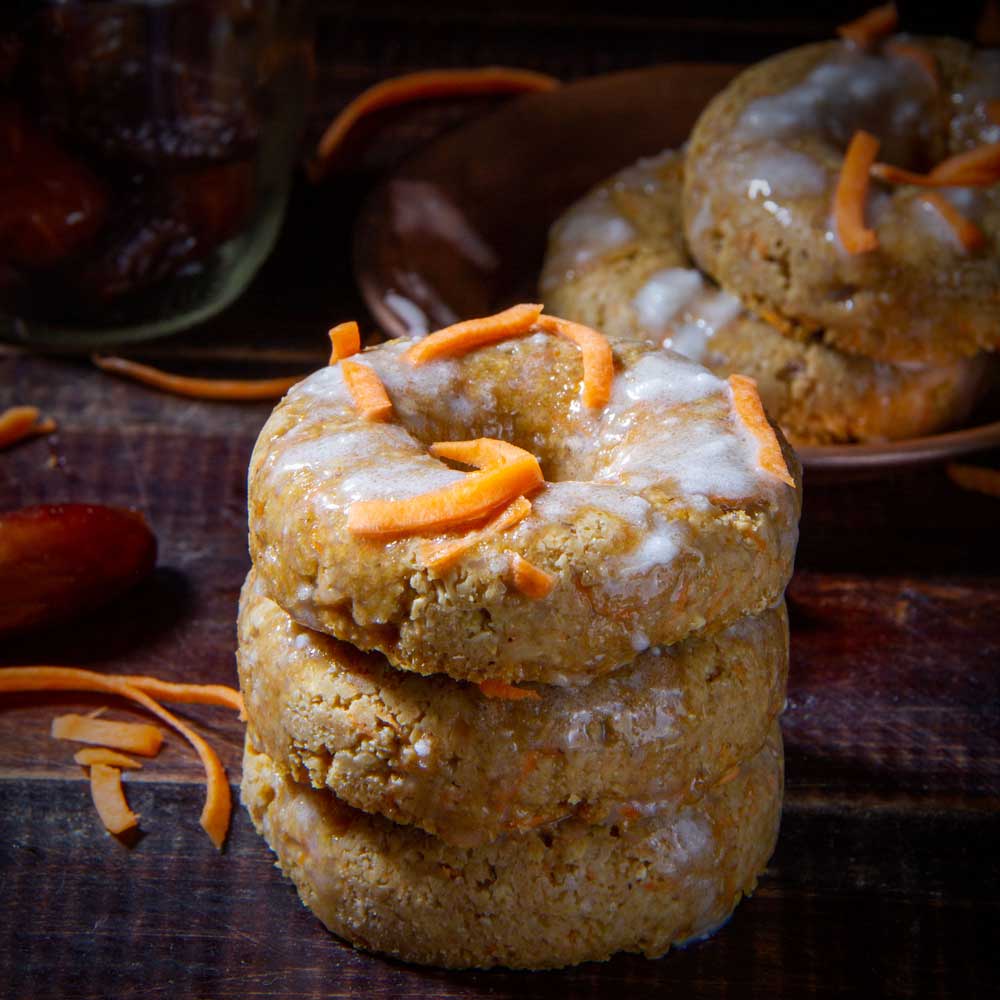 Donuts are the most popular snack in the American cuisine. These (usually) hole-punched, deep-fried pastries are everywhere: In advertising, in the movies, even in textile prints and fine art paintings, you'll find donuts. However, even raw foodists can indulge in this famous dessert with a delicious recipe for raw donuts.
Recipe Author: Beautiful on Raw
Preparation Time: 20 min
Serves: 6 donuts
---
While a donut mold or cutter is ideal, you can use whatever you have on hand to make these raw donuts. The dough is a flavorful blend of oatmeal, grated carrots, pumpkin, dates, raw honey, and a variety of spices that provide a burst of taste in every bite. For the topping, use a little coconut oil, raw honey, and grated carrot bits to give the donuts a satisfying crunch.
Whether you're a raw foodist or not, these donuts are a delicious and healthy alternative to traditional donuts. They're packed with nutrients and flavor, and they're sure to satisfy your cravings for a sweet snack. So why not give them a try and see how they stack up against the classic deep-fried variety?
Ingredients:
For the donuts
1 medium carrot
raw pumpkin
½ cup of oats, soaked overnight
7 dates, seedless, soaked 
¼ cup of water
1 teaspoon of cinnamon
a pinch of nutmeg
1 tablespoon raw honey
For the topping:
1 small carrot
¼ cup of coconut oil
2 tablespoons of raw honey
a silicone mold for donuts
Instructions:
Peel the carrots and pumpkin. Grate them on the finer side of the cheese grater. Then place them in a large bowl with the oatmeal, seedless dates, water, cinnamon, nutmeg, and raw honey. Knead until you get a compact dough that comes easily off your hands. Fill the cavities of the donut mold with the dough and compact it. Put the molds in the fridge for a couple of hours.
Using the spiralizer, make some thin ribbons with carrots to decorate the donuts. Mix coconut oil with raw honey. Serve the donuts decorated with coconut oil and carrot bits.
Ingredients: carrot, pumpkin, oats, dates, cinnamon, raw honey, coconut oil
Recipe Type: Dessert