Key Lime Pie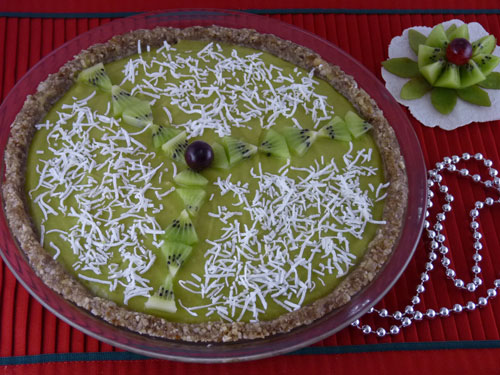 For all you key lime pie lovers, get ready to dig in! Our raw take on traditional key lime pie, made with real key limes, which are available at stores this time of the year. No key limes near you? No problem:  use regular limes instead.
Recipe Author: Beautiful on Raw
Preparation Time: 40
Serves: 6
---
Crust Ingredients:
1 cup pecans, soaked for a few hours and surface-dried in the dehydrator
1 cup cashews, soaked for a few hours and surface-dried in the dehydrator
1 cup dates, unsoaked, pits removed and cut into pieces
pinch Celtic sea salt
Filling Ingredients:
¾ cup of key lime juice (about 12 key limes), or regular lime juice
¼ cup coconut oil
3 Hass avocados, pits removed, peeled and cut into pieces
1 tsp. vanilla extract or vanilla powder
½ cup raw honey
Shredded coconut, key lime zest or kiwi fruit slices as garnishes. Place the crust ingredients into a food processor and run it until the mixture turns into crumbs and starts to stick together. Transfer the crumbs into a pie tin, and using your hands press the crumbs evenly into the bottom and sides of the plate, making the pie crust. Blend together the filling ingredients in a blender, adjust the sweet and sour elements according to your taste, and transfer the filling into the pie tin on top of crust. Level with a spoon. Chill covered in the refrigerator before garnishing, and freeze for 2-3 hours before serving. Note: Preparation time is 40 minutes plus soaking, dehydrating and chilling time.
Ingredients: avocado, cashew, coconut, dates, lime, pecans, raw honey, vanilla
Recipe Type: Dessert