Colorful Veggie Delights with Savory Almond Drizzle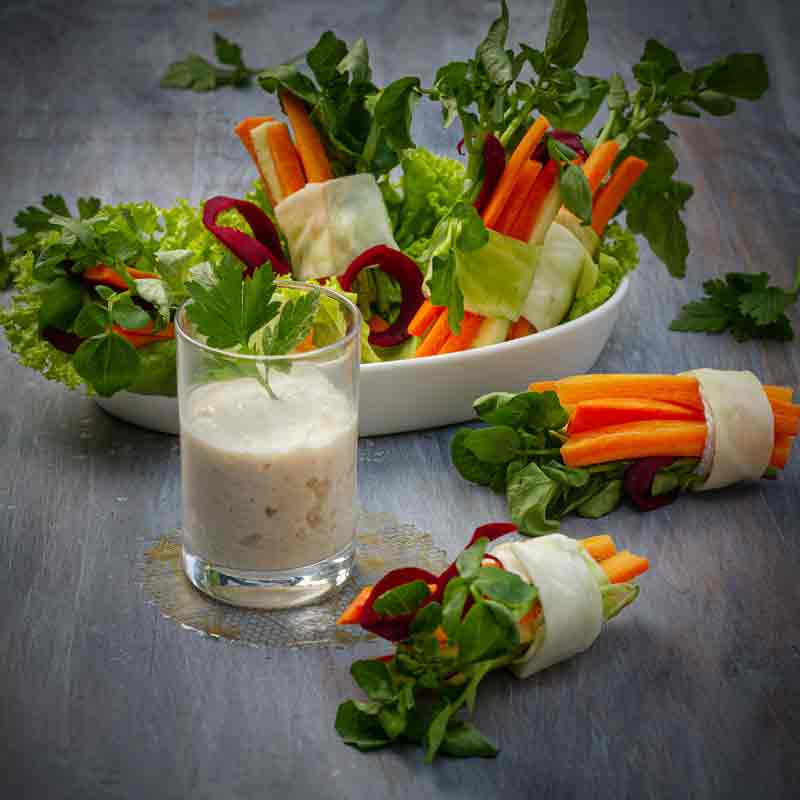 Introducing these delectable vegan veggie rolls! Crafted from a medley of vibrant vegetables like carrot sticks, zucchini, and beetroot ribbons, wrapped in crisp cabbage leaves, these bite-sized marvels are a feast for the eyes and the taste buds.
Whether you're seeking a wholesome party snack or a playful method to elevate your veggie intake, these vegan vegetable rolls are the ultimate solution!
Recipe Author: Beautiful on Raw
Preparation Time: 10 min
Serves: 2
---
Ingredients: 
•    2 medium carrots, peeled and cut into sticks 
•    1 medium zucchini, cut into sticks 
•    1 medium beetroot, peeled and cut into thin ribbons 
•    1 bunch of cress Cabbage leaves to make the vegetable rolls 
For the sauce: 
•    ½ cup raw almonds (or cashew), soaked for at least 4 hours or overnight 
•    2 tsp nutritional yeast 
•    2 Tbs fresh lime juice 
•    1 tsp garlic powder 
•    1 tsp onion powder 
•    Salt and black pepper to taste 
Cut the carrots and zucchini into sticks of the same size. Peel the beetroot and cut it into thin ribbons. Cut the cabbage leaves into long strips to use as roll wrappers. In a food processor, blend the soaked almonds, nutritional yeast, fresh lime juice, garlic powder, onion powder, salt, and black pepper to taste. Process for at least three minutes, adding water as needed to achieve desired consistency. 
Separate the cabbage leaves and place the carrot sticks, zucchini, beetroot ribbons and watercress sprigs on each leaf. Add a tablespoon of the almond sauce on top. Then, top with another cabbage strip and roll to form a vegetable roll. Secure the roll with a strip of cabbage. Serve the vegetable rolls with the almond sauce.
Ingredients: carrot, zucchini, beetroot, Chinese cabbage, almonds
Recipe Type: Appetizer