Sweet and Spicy Cabbage Rolls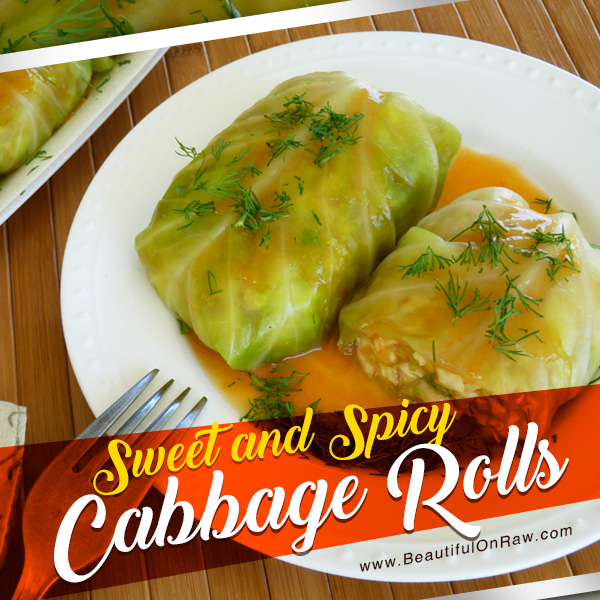 This light appetizer can be easily upgraded to a heartier meal, if you use nut or seed pate as a filling instead of cabbage.
Recipe Author: Beautiful On Raw
Preparation Time: 30 min. plus time the leaves
Serves: 6-8 rolls
---
Ingredients for stuffing:
1 medium-size white cabbage
2 Tbs. lemon juice
¼ tsp. sea salt
Ingredients for sauce:
1 cup red bell pepper, seeds removed, and pepper chopped
2 celery sticks, chopped
2 green apples, core and seeds removed, and apples cut into pieces
1 mango, peeled, pit removed, and mango chopped
½ cup yellow onion, peeled and chopped
3 Tbs. fresh lemon juice
1 Tbs. raw honey (optional), if you prefer more sweetness
1 hot green pepper, such as Serrano, seeds removed and chopped very fine (or to taste)
Other ingredients:
fresh dill for garnishing, finely chopped
Directions:
Wash the cabbage and carefully separate several outer leaves (about 8). Pat them dry, put in a plastic bag and place in the freezer for a few hours or overnight. Take them out after they froze and let them defrost in the fridge or on the counter: now they will be soft enough to be rolled.
Shred 3 cups of green cabbage like you would to make sauerkraut, add fresh lemon juice and salt, and massage the cabbage for a minute or two with your hands. To make the sauce, process all the sauce ingredients, except hot pepper, through the Champion (or similar) juicer with the solid plate (not the mesh plate that is used for juicing).
Alternatively, you can just use the food processor, and then strain excess juice from the mix (keep the juice). Mix in the chopped hot pepper. Adjust the taste at this point, adding honey, salt, lemon juice or more hot pepper if necessary.
Mix the sauce (reserving a little for garnishing) well with the shredded cabbage. Place about ½ cup of the mixture on each of the cabbage leaves, and then fold all 4 sides of the leaves to enclose the filling. Place cabbage rolls on a plate or in a dish seam side down, pour some of the sauce or strained juice on top of the rolls, sprinkle with fresh dill and serve.
Ingredients: green cabbage, red bell pepper, celery, mango, yellow onion
Recipe Type: Appetizer