Celebration Beet Salad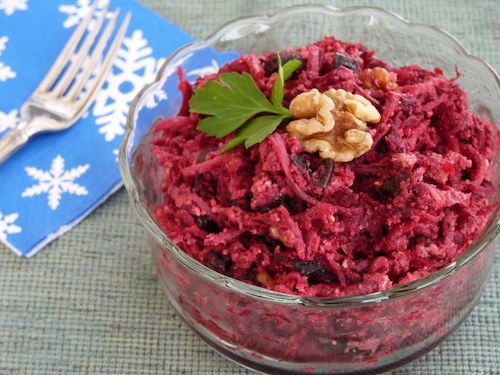 This traditional Russian celebration dish has been adapted for raw foods. If you didn't like canned beets as a kid, please give the raw beet root a try: you might fall in love with this powerful healing food.
Recipe Author: Beautiful on Raw
Preparation Time: 20 min. plus time for soaking and dehydrating
Serves: 6-8
---
Ingredients:
For the "mayo":
1 ½ cups sunflower seeds, soaked and dehydrated
1 clove garlic, minced
2 Tbs. fresh lemon juice
½ tsp. ground mustard
½ tsp. sea salt
between ½ and ¾ cups of water, as needed for blending
For the salad:
3 big beets, peeled and grated
1 clove garlic, minced
1 cup prunes, chopped
½ cup walnuts, soaked and dehydrated, roughly chopped
additional sea salt if necessary
Directions:
Prepare the "mayo" by placing all the ingredients in a blender, and blending them for as long as it takes to reach a smooth consistency. Adjust the thickness of the mix by adding more water if necessary.
Grate the beets, transfer them to a bowl, add garlic, prunes, and walnuts, fold in the "mayo" and mix well with a spoon. Taste and add more salt to taste if desired.
Ingredients: sunflower seeds, garlic, lemon juice, mustard, sea salt, water, beets, prunes, walnut
Recipe Type: Salad, Main Course