Meatless Meatballs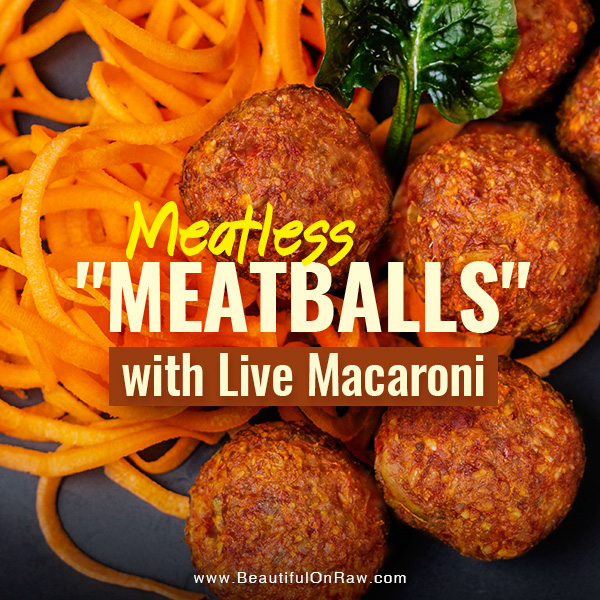 Spaghetti and meatballs go together. But when you're eating raw, and want something that give you a more "traditional" feel to go with your healthy, raw, zucchini noodles, what can you do? My "meatless meatballs" are your new go-to recipe!
Recipe Author: Beautiful On Raw
Preparation Time:
Serves:
---
1/2 cup flaxseed
2 strips of kelp, soaked for 10 minutes
1 cup sun-dried tomatoes, soaked for an hour
1/2 cup walnuts
1/2 bell pepper, cut into small pieces
1 stalk of celery, chopped
1 Tbsp whole psyllium husk
1 cup ground pumpkin seeds
1/2 cup parsley
1/2 cup sweet onion, minced
Sea salt to taste
Grind the flaxseed in a coffee grinder or dry Vita-Mix. Add kelp and sun-dried tomatoes to ground flax and blend well. Pour the mixture into a food processor, and add the walnuts, bell pepper, and celery. Puree ingredients. Transfer to a bowl, and stir in the whole psyllium husk, ground pumpkin seeds, parsley, and onion. Mix well by hand. Form into balls using a small cookie-dough scoop. Place the "meatballs" on mesh dehydrator sheets and dehydrate for six to eight hours. Serve each "meatball" on a nest made from zucchini noodles.
Ingredients: flax seeds, walnut, red bell pepper, sundried tomato, celery, pumpkin seeds
Recipe Type: Main Course