Chia Mango Pudding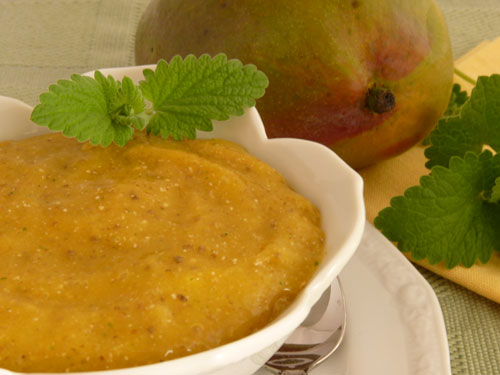 If you are looking for a way to use chia seeds in recipes, then fruit pudding is one of the best. Pre-soaking the seeds will ensure the gelatinous texture necessary to achieve the pudding-type consistency. For extra creaminess, add an avocado. Use any fruit that's in season – you can't go wrong with this recipe!
Recipe Author: Beautiful on Raw
Preparation Time: 15
Serves: 2
---
Ingredients:
1 Tbs. chia seeds, soaked in 6 Tbs. of water for 2 -3 hours
2 ripe mangoes, peeled and pits removed
1 fresh banana, peeled
½ avocado (optional), peeled and pit removed
3-4 fresh mint leaves, finely chopped
In a high speed blender combine all the ingredients, and blend on high until well blended and smooth. Serve in individual bowls. Note: Preparation time is 15 minutes plus soaking time.
Ingredients: avocado, banana, chia seeds, mango, mint