Cucumber-Tomato Canapes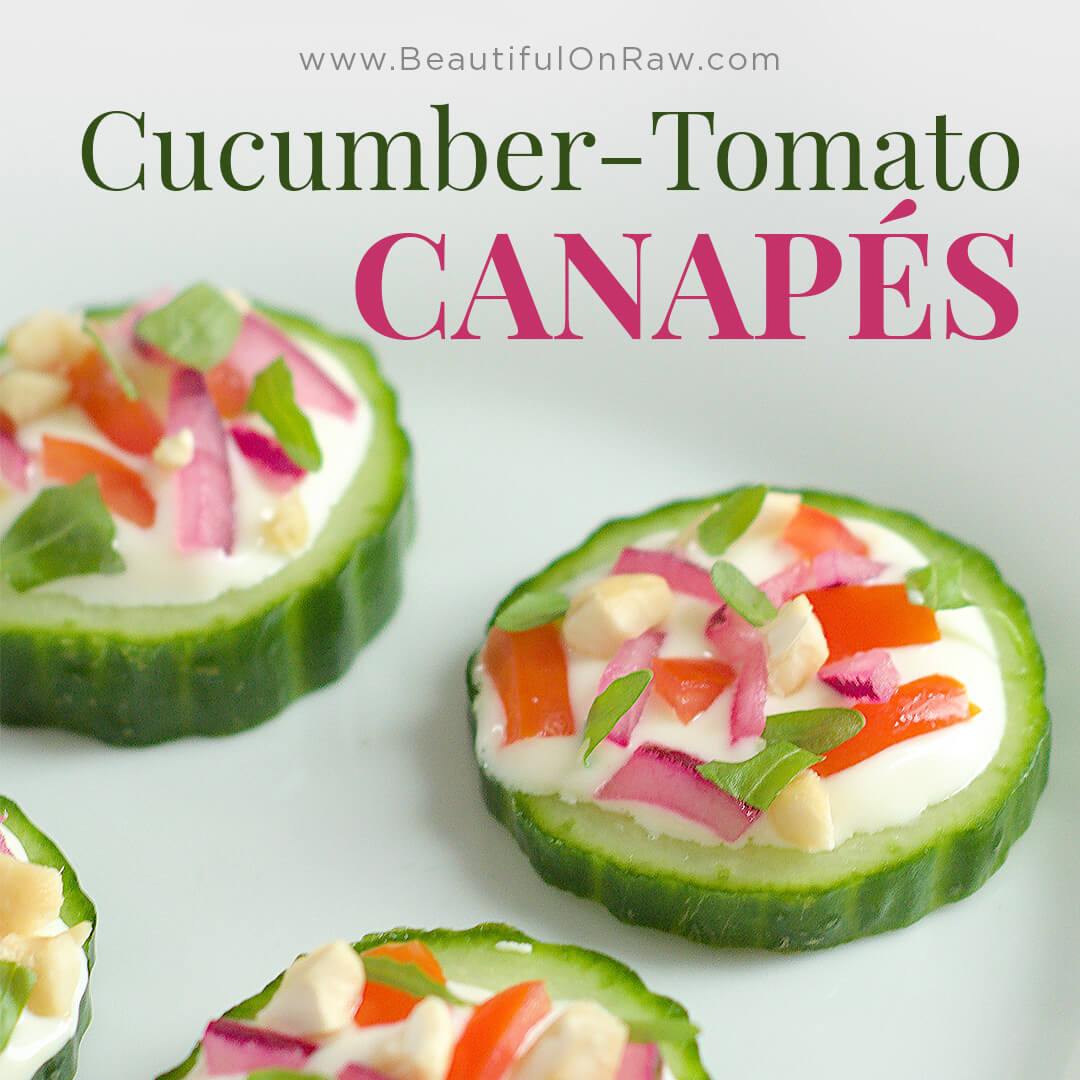 Superbly simple, these cool, cashew-topped treats are sure to delight your guests. Make extra, or you'll run out!
Recipe Author: Beautiful on Raw
Preparation Time: 15 min
Serves: 2
---
Ingredients:
1 medium cucumber, sliced
1 small red onion, chopped
4 Tbsp lemon juice ⅓ cup cherry tomatoes, chopped
3 Tbsp fresh herbs, chopped
3 Tbsp cashews, chopped
¼ cup almond milk (from raw almonds)
½ cup cold-extracted olive oil
¼ tsp. salt, more as needed pinch of pepper
Directions:
Prepare a vegan mayo. Place almond milk, 1 teaspoon of lemon juice, a pinch of salt and a pinch of pepper in a blender. Start blending and add in the olive oil, a little at a time. Alternatively, you can use a hand blender and just mix everything together in a bowl, moving the blender to incorporate air.
Place your vegan mayo in the fridge for about 30 minutes. As you wait, prepare the pickled onion. Combine remaining lemon juice, a pinch of salt, and the red onion in a bowl. Set in the fridge for about 15 minutes. Drain the red onion with a strainer.
Assemble the canapes. Start with a cucumber slice, then top with vegan mayo, red onion, cherry tomatoes, herbs, and cashews. Serve right away.
 
Ingredients: cucumber, red onion, cherry tomatoes, cashew, almond milk, olive oil
Recipe Type: Appetizer