No-Bake Carrot and Beetroot Cake Bites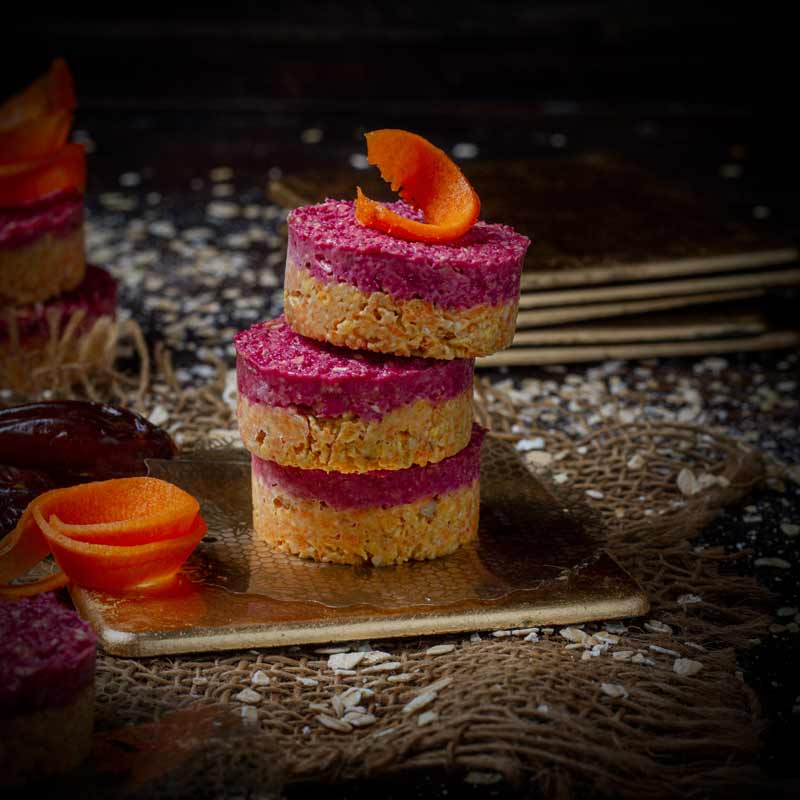 Looking for a delicious and nutritious treat? Look no further than these no-bake carrot and beetroot cake bites! These delectable bites are crafted using wholesome ingredients such as nuts, dates, shredded carrot, and beetroot. Not only are they vegan, gluten-free, and paleo-friendly, but they are also loaded with fiber and essential nutrients.
You have the freedom to customize the sweetness and spiciness by incorporating additional dried fruit or spices. Whether you desire a quick snack or a delightful dessert, these petite bites are the perfect choice. Give them a try and indulge guilt-free!
 
Recipe Author: Beautiful on Raw
Preparation Time: 20 min
Serves: 12
---
Ingredients:

•    1 finely grated carrot
•    1 finely grated beetroot
•    1 cup oats
•    100g dates
•    1/2 cup peeled almonds
•    1 tsp cinnamon
•    1/2 tsp nutmeg
•    1 Tbsp raw honey
•    a pinch of salt
 
In a food processor, combine all the ingredients for the base of the bites (excluding the carrot and beetroot) and blend until the mixture starts to break down. Split the mixture into two equal parts.
Take half of the healthy bites mixture and mix it with 2/3 of the shredded carrots until thoroughly combined. Take the other half of the mixture and combine it with the remaining shredded carrots and all of the beetroot.
Using a silicone mold designed for bites, begin by placing the carrot layer first and then add the beetroot layer on top. Gently press the mixture to ensure it is compact within the mold.
Refrigerate the bites for at least one hour to allow them to set. Afterward, remove the bites from the mold and serve.
Enjoy your delightful and nutritious no-bake carrot and beetroot cake bites!
Ingredients: carrot, beetroot, oats, almonds, cinnamon, nutmeg, raw honey
Recipe Type: Appetizer