Portobello Open Sandwiches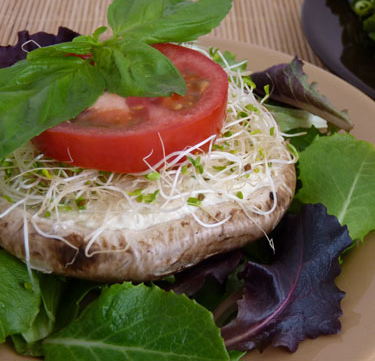 Portobello mushrooms never fail to give us the "grounded" feeling we sometimes seek, and their earthy flavor reminds us that spring is on its way.
Recipe Author: Beautiful on Raw
Preparation Time: 20
Serves: 2
---
Ingredients:
2 portobello mushroom caps
3/4 cup pine nuts, unsoaked
juice of 1 lemon plus separate 2 Tbs. lemon juice
1-2 garlic cloves, minced
½ tsp. Celtic sea salt
tiny pinch red Chili pepper flakes (optional)
1/8 cup water
1 tomato, sliced
¼ cup alfalfa or any sprouts of your choice
a few basil leaves
young greens for serving
Clean the mushroom caps and turn them upside down. Pour juice of one lemon over them and set aside. Place pine nuts, garlic, 2 Tbs. lemon juice, salt, water and pepper flakes into a blender, and blend on high until you get a creamy mix. Spread it over the mushroom caps. Arrange tomato slices and basil leaves on top of your sandwiches, and serve over a bed of greens.
Ingredients: basil, garlic, greens, hot pepper, lemon, mushrooms, pine nuts, sprouts, tomato
Recipe Type: Main Course