Buddha Bowl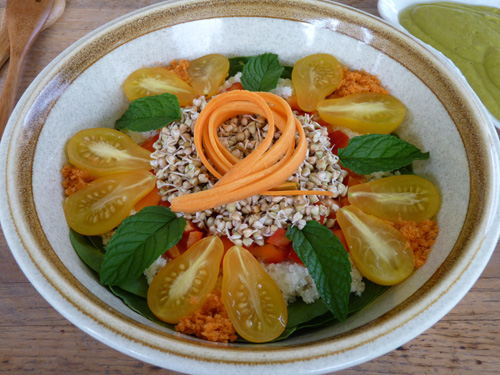 Originally used as a begging bowl by Buddhist monks, the "Buddha Bowl," in your hands, will become a meal your friends and family will be begging for!
Recipe Author: Beautiful on Raw
Preparation Time: 20
Serves: 2
---
Your aesthetic sense is part of the game. You can simply mix and serve this simple meal of wholesome vegan foods—greens, vegetables, seeds, and nuts. Or you can arrange them to suit your expressive tastes. Shown here is just one of infinite possibilities.
Ingredients:
For the salad:
1 cup baby greens – spinach, baby lettuce, or spring mix
1 cup cauliflower, finely ground in a food processor
1/3 cup buckwheat groats, sprouted
1 small red pepper, chopped
5 yellow pear tomatoes, cut in half
a few carrot ribbons
some pulp left from juicing carrots (optional)
a few mint leaves
For the dressing:
½ cup fresh-squeezed orange juice (about 2 oranges)
½ cup avocado, peeled
¼ tsp. ground nutmeg
½ tsp. ground cinnamon
1 tsp. raw honey
pinch sea salt
Blend all the dressing ingredients in a blender. Arrange vegetables and buckwheat in a bowl, and serve with the dressing on the side.
Please Note: Preparation time is 20 minutes plus time for sprouting.
Ingredients: greens, cauliflower, buckwheat, sweet pepper, tomato, carrot, mint, orange, avocado, cinnamon, nutmeg, raw honey
Recipe Type: Main Course, Salad