Festive Waldorf Salad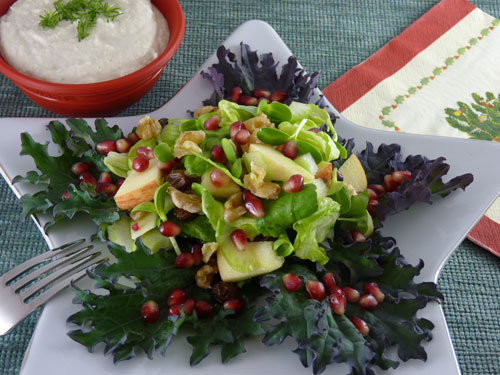 Since the late 1800s, when this salad was first made at the Waldorf Hotel in New York City, it has gone through many transformations. The core ingredients, however, did manage to survive over the years. This hearty salad is easily adaptable for those living on raw foods by replacing the traditional mayonnaise-based dressing with some version of a raw nut-based mayo.
Recipe Author: Beautiful on Raw
Preparation Time: 30
Serves: 4
---
Ingredients:
For salad:
2 cups celery, thinly diced
1 cup walnuts, soaked for several hours, then dehydrated, and roughly chopped
½ cup raisins, pre-soaked for 1 hour (or you can use red grapes)
a few leaves of bibb lettuce, torn into pieces
1-2 medium apples, diced
For dressing:
1 ½ cup sunflower seeds, presoaked for 3-4 hours, rinsed and drained
3 Tbsp. lemon juice
¼ cup fresh orange juice
½ tsp. Celtic sea salt, or to taste
4 Tbsp. water from the soaked raisins
1 Tbsp. raw honey
dash of onion powder
For garnishing:
dark leafy greens for a base
sunflower sprouts
¼ cup pomegranate seeds to sprinkle
Place the dressing ingredients in a high-speed blender and process until smooth, adding more water if needed to reach a smooth consistency. Pour the dressing into a separate dish. Mix all the salad ingredients together in a big bowl. When ready to serve, arrange any green leaves you have on hand on individual plates. Transfer the salad onto the plates, add sunflower sprouts and pomegranate seeds for a special holiday touch, and serve with the dressing on the side. For a more casual meal, simply combine the dressing and the salad in a bowl, and serve on top of green leaves. Note:
Preparation time is
30 minutes plus soaking and dehydrating time.
Ingredients: apple, celery, lemon, lettuce, orange, pomegranate, raisins, raw honey, sunflower seeds, walnut
Recipe Type: Salad