Mason Jar Salad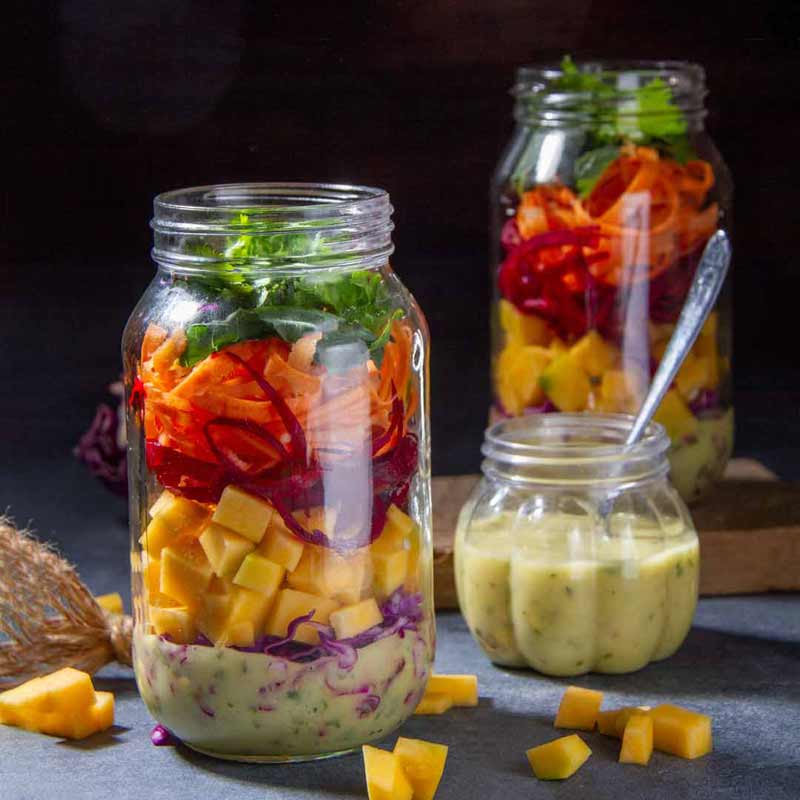 A mason jar salad filled with seasonal vegetables is a perfect option for your work lunch or enjoying on the go. Fall is the ideal time for ingredients like pumpkins, carrots, beets, and cabbage.
As with any salad, the dressing is a crucial element. Our creamy vinaigrette combines soaked cashews, fresh ginger root, mustard, garlic, a zesty touch of lime, and a hint of honey, creating a truly heavenly flavor.
Don't hesitate to give it a try and share it with others. It's worth noting that these jars also make for beautiful and decorative presentations.
Recipe Author: Beautiful on Raw
Preparation Time: 10 min
Serves: 2
---
Ingredients:
     For the salad itself:
1 large carrot
2 beets
150g. purple cabbage
150g. raw pumpkin
a handful of coriander

For the dressing:
  
¼ cup of soaked cashews
1 tablespoon of mustard
1 tablespoon grated ginger
 1 clove garlic
2 tablespoons apple cider vinegar
 2 tablespoons of water
1 tablespoon lime juice
1 tablespoon raw honey
Salt and pepper to taste
       Instructions:
To prepare the dressing, combine soaked cashews, mustard, grated ginger, a garlic clove, water, lime juice, honey, and a pinch of salt and pepper in a blender. Blend until smooth and well mixed. Divide the dressing into two equal portions and pour each into the bottom of two mason jars.
Next, peel the carrots and beets, and then grate them using a spiralizer. Finely chop the cabbage and peel the pumpkin, cutting it into small cubes. Layer the vegetables in each mason jar as follows: begin with purple cabbage, followed by pumpkin, beets, and carrots. Cover the jars and store them in the refrigerator until you're ready to enjoy your meal. When you're ready to eat, add cilantro on top, secure the lid, and shake well. Bon appétit!
 
Ingredients:
Recipe Type: Salad