Gift-of-the-Season Sweet Carrot Loaf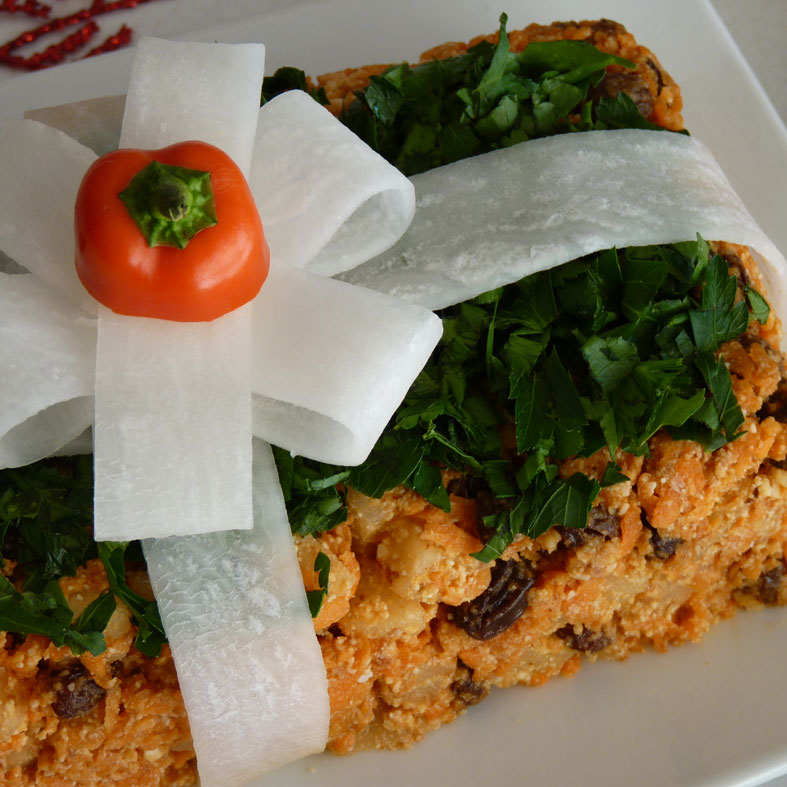 That pulp you saved from making the Holiday Nog will become part of this Sweet Carrot Loaf. If you don't have the pulp, then just use any ground nuts or seeds that you like.
Recipe Author: Beautiful on Raw
Preparation Time: 30
Serves: 5
---
Ingredients:
2 cups grated and tightly packed carrots
1 cup almond pulp reserved from making almond milk, or 1 cup of finely ground nuts
¾ cup raisins
1 Asian pear, peeled and cubed
¼ tsp. Celtic sea salt
2-3 Tbs. lime juice
2 Tbs. raw honey
½ cup parsley leaves, finely chopped, to garnish
daikon radish and small red pepper to garnish
Combine all the loaf ingredients in a bowl, except the garnishes, and gently mix with a spoon.  To shape this mix, spoon it into a loaf pan, or another differently-shaped dish you have on hand, and gently press with the spoon, without crushing the ingredients. Turn the loaf over onto a serving plate and generously cover the top with parsley. For a ribbon, you can use strips of daikon radish made with a vegetable  peeler, mandolin slicer or a cheese cutter, and to finish off the bow, use the top half of a red pepper with a green stem. Attach the bow to the ribbon with a toothpick.
Ingredients: almonds, carrot, daikon, lime, parsley, pear, raisins, raw honey
Recipe Type: Main Course