Holiday Fruit Tartelettes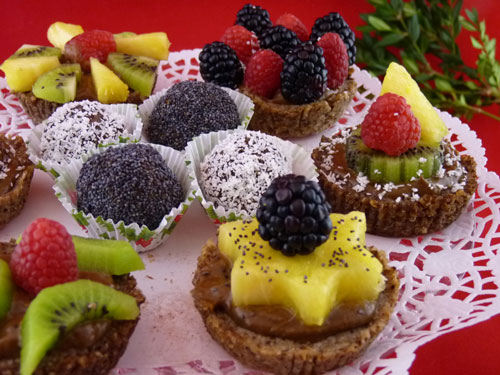 We will use the same crust recipe and a variety of fruits for garnishing to create the tartelletes - festive holiday finger food. Use any fruit you have access to at this time of the year. The more colors, the merrier!
Recipe Author: Beautiful on Raw
Preparation Time: 50
Serves: 4
---
Crust ingredients:
1 cup hazelnuts, soaked overnight, then dried in a dehydrator
1 cup walnuts, soaked for a few hours, then dried in a dehydrator
¼ cup shredded unsweetened coconut
¼ cup ground flax seeds
1 cup pre-soaked and well-drained raisins
pinch sea salt
2 Tbs. raw carob powder
Carob Cream ingredients:
1 ripe banana
3 tsp. raw carob powder
1/4 cup ground flax seeds
Ingredients for garnishing:
shredded coconut
raspberries
blackberries
kiwi fruits, peeled
poppy seeds
cut pineapple pieces
You will also need a few cupcake paper cups and a muffin pan (if you haven't given it away yet). Prepare the Carob Cream by blending the ingredients in a food processor or blender, until smooth. Transfer to a bowl and let it thicken for 10-15 min. Place nuts into the food processor, and grind to a breadcrumb consistency. Add the rest of the crust ingredients, except the carob, and continue blending until everything is thoroughly ground and mixed.  The mixture should feel sticky. Divide it in half, and add 2 Tbs. carob powder to one part, mixing it in well. Place baking cups inside the muffin pan for convenience of forming the tartelettes, then fill the bottom part with the crust mixture, pack tightly, take out of the cup, spread some carob cream on top of it, and arrange fruit on the tartelettes in any way you like. You can also make small balls out of the crust mix, and roll them in coconut or poppy seeds. Arrange on a plate or a tray to serve. Note: Preparation time is 50 minutes plus soaking and drying time.
Ingredients: banana, blackberry, carob, coconut, flax seeds, hazelnuts, kiwi, raisins, raspberry, walnut
Recipe Type: Dessert