Mini-Muffins a la Raffaello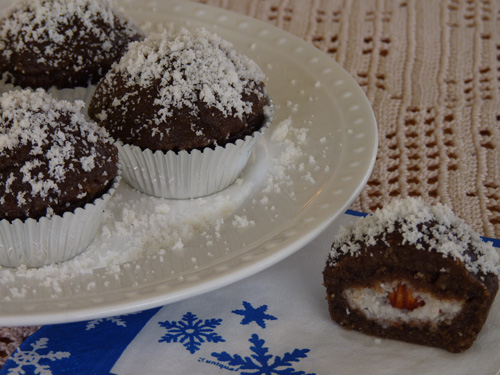 Raffaello coconut candy balls won't likely be on your menu, but Raw-ffaello mini-muffins very well may be! A raw re-make of the famous holiday treat.
Recipe Author: Beautiful on Raw
Preparation Time: 30
Serves: 3
---
Ingredients:
For the dough:
1 cup pecans, soaked, drained, rinsed and dehydrated
1 cup walnuts, soaked, drained, rinsed and dehydrated
3 Tbs. raw carob powder
2 Tbs. raw honey
For the filling:
½ cup young Thai coconut "meat"
1/8 cup unsweetened shredded coconut plus 1/8 cup more for garnishing
1 Tbs. raw honey
7-8 hazelnuts, soaked, drained, rinsed and dehydrated
Grind pecans and walnuts in a food processor until they turn into small sized crumbs. Add carob, and blend it in. Add honey, and process again until the dough becomes sticky when you handle it. Transfer to a bowl. Now it's time to make the filling. Combine coconut "meat" with shredded coconut and honey, and process together. Next, line a mini-muffin form with a plastic sheet for easier cake removal, or use a silicone form. Mold some dough into a bowl shape within the muffin tray. We will be filling these "bowls" with the filling. Now put ½ tsp. of white filling in the middle, add a hazelnut, then add another ½ tsp. of white filling on top of the hazelnut. Make a flat disc from the dough, and cover the mini-muffin, sealing the edges as well as you can. Repeat until you run out of dough. Cover and put in the refrigerator for 30 min or more to allow the mini-muffins to solidify a bit. When ready, sprinkle with shredded coconut. If you like, you can make the coconut finer by grinding the shredded coconut in a coffee grinder. Note: Preparation time is 30 minutes, plus soaking and dehydrating time.
Ingredients: carob powder, coconut, hazelnuts, pecans, raw honey, walnut
Recipe Type: Dessert