Raw Pumpkin Pie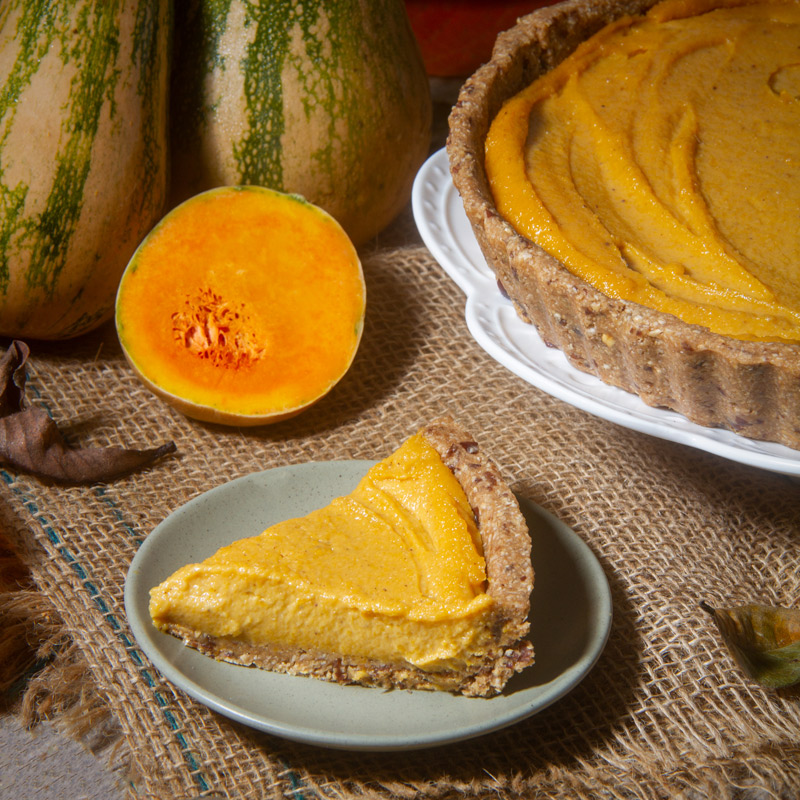 Pumpkin pie is a Thanksgiving classic—almost invariable baked. But it doesn't have to be. When you've made your first raw pumpkin pie, I promise you won't miss that old traditional pumpkin pie anymore.
Raw pumpkin pie is natural and delicious. In this recipe, we use nutmeg, cinnamon, and powdered cloves. Additionally, the crust is made from a mixture of soaked oats with dates. And the filling is a cashew cream with pieces of raw squash, a little lime juice, and spices.
To make it, you'll need a food processor and a little patience because this dessert must rest for at least eight hours before serving. This allows the oats to hydrate and reach a pleasant consistency.
 
Recipe Author: Beautiful on Raw
Preparation Time: 20 min
Serves: 8
---
Ingredients:
For the crust:
۰    2 cups of oats, soaked
۰    300 grams seeded dates
۰    2 Tbsp maple syrup or raw honey
۰    1 tsp vanilla extract
۰    1 tsp of oil (to spread the mold)
For the filling:
۰    200 grams raw pumpkin
۰    2 Tbsp of lemon juice
۰    ½ cup maple syrup or raw honey
۰    3 cups of cashews, about 360 grams
۰    1 tsp ground cinnamon
۰    a pinch of ground cloves
۰    a pinch of ground nutmeg.
Instructions:
Soak the raw oats and cashews overnight. Remove the seeds from the dates and leave them soaking in another glass bowl, preferably in the fridge. The next day, drain the excess water from the dates, oats, and cashews. In a large bowl, mix the oats with the cashews. Knead until you get a soft, moldable, light brown dough. Stir in the maple syrup and vanilla. Knead for a few more minutes.
Spread a little oil in the mold you will use for the pumpkin pie. Then pour the crust batter into the mold and spread it evenly. With your fingertips, compact the dough toward the bottom and sides of the mold. Make sure that the dough has the same thickness all over the mold. Take the mold and crust to the freezer for a few minutes while you make the filling.
In the food processor, place the hydrated cashews, lemon juice, maple syrup, pumpkin pulp, cinnamon, ground cloves, and nutmeg. Grind them until you get a homogeneous cream without lumps. Remove the crust from the freezer and pour the pumpkin cream over the crust. Spread the cream evenly. Return the mold to the refrigerator for about eight hours until it is firm. Now…get ready to say goodbye to baked pumpkin pie and hello to something fresher and more flavorful!
 
Ingredients: oats, dates, pumpkin, cashew, raw honey
Recipe Type: Dessert