Cranberry Pecan Bites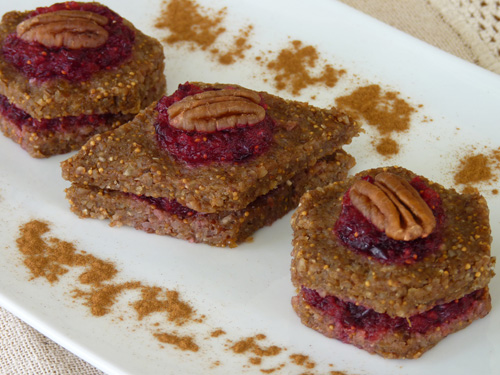 Make sure you consume cranberries often while they are in season, by juicing, in smoothies, or by incorporating in desserts such as this one.
Recipe Author: Beautiful on Raw
Preparation Time: 25
Serves: 5
---
Ingredients:
1 cup pecans, soaked overnight and dehydrated for a few hours
7 dried unsulfured figs, soaked for 2-3 hrs.
½ tsp. ground nutmeg
½ cup fresh cranberries
2 Tbs. raw honey
Set aside 5 pecan halves. Place the rest of the pecans, drained figs and nutmeg in a food processor, and blend well together, until the "dough" becomes sticky. In a blender, blend cranberries and honey together to make the cranberry sauce. Next, flatten some of the "dough" with your hands on a cutting board to about 3/8 of an inch thickness, and using a cookie cutter (in the shape of a circle, square, etc.), press down to cut the shape (or just use a knife if you prefer). Place the cut-out on a serving platter, spoon some cranberry sauce on top, and cover with the same shaped "dough" cut-out. Put a small amount of cranberry sauce on top of the second shape and press 1 pecan half into it. Repeat the process for 4 more bites.
Note: Makes 5 "bites". Preparation time is 25 minutes plus soaking time
.
Ingredients: cranberry, figs, nutmeg, pecans, raw honey
Recipe Type: Dessert