Mango Chocolate Tart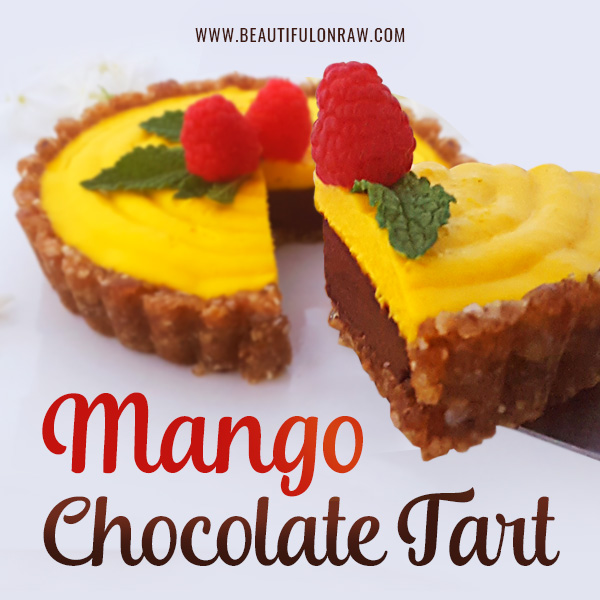 This unpredictable pairing of mango puree with chocolate creates a smooth, delectable dessert.
Recipe Author: Beautiful On Raw
Preparation Time: 30 min
Serves: 1
---
Ingredients:
First layer—crust: 5 dates, 2 tbsp. of coconut flakes, ¼ cup of walnuts.
Second layer—chocolate ganache: ¼ cup of raw cocoa powder, ¼ cup of melted coconut oil, 2 tbsp. Agave syrup.
Third layer—Mango puree: 1 small mango, 2 tbsp. of melted coconut oil.
Directions:
Blend all ingredients for the crust in a food processor. Press the mix evenly onto a tart tray. Then blend the ingredients for the chocolate ganache until smooth. Pour this as a second layer on top of the crust. Place in the fridge for 10 minutes to set. While waiting, blend the mango and coconut oil until smooth. Then, using a pastry bag, spread the blend on top of the chocolate. Put back in the fridge for another 10 to 15 minutes. Decorate with your choice of berries, and mint if you desire. Scrumptious!
Ingredients: dates, shredded coconut, walnut, mango, coconut oil
Recipe Type: Dessert