Christmas Vegan Cheese Balls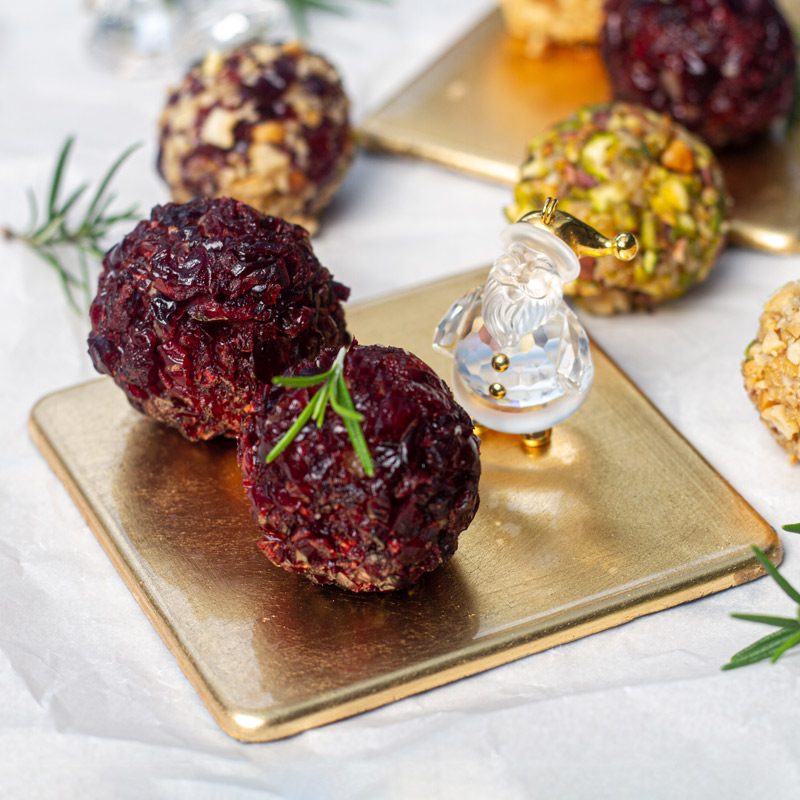 Cashew cheese is one of the best options for replacing milk-based cheese. This dish is a delight and looks great on the table. Its flavor is much better than that of similar recipes made with traditional cream cheese. To get the cheese flavor, we use nutritional yeast and ferment the cheese for a day.
Recipe Author: Beautiful on Raw
Preparation Time: 20 min
Serves: 3
---
Ingredients:
۰    2 1/3 cup of cashews, 300 grams
۰    3 Tbsp of lime juice
۰    1 Tbsp of nutritional yeast
۰    ½ cup of dried cranberries, 100 grams
۰    ½ cup of nuts (your choice: almonds, walnuts, cashews, pine nuts, etc.), 70 grams
۰    salt to taste.
Instructions:
Soak the cashews for at least twelve hours, ideally overnight. Drain excess water and rinse under running water. Blend the drained cashews in a food processor until smooth. Add the nutritional yeast, lime juice, and salt. Mix it for a couple more minutes. 
Pour the cashew cheese in a cheese bag. Hang the bag so it is suspended and moisture can escape. Leave the cheese on the counter for at least twelve hours. This will intensify its flavor.
Remove the cheese from the bag and divide it into six to seven equal-sized servings.
Roll into balls. Cut the cranberries finely, and place them on a shallow plate. Finely chop the walnuts of your choice. Place the walnuts on another shallow plate. Roll the first cheese ball over the cranberries, until completely covered. Repeat until you run out of cranberries. Cover the remaining cheese balls with walnuts. Set these on a plate. Serve with raw vegetable sticks.
Ingredients: cashew, cranberry, almonds
Recipe Type: Dessert