Watermelon Radish Salad with Blueberry Dressing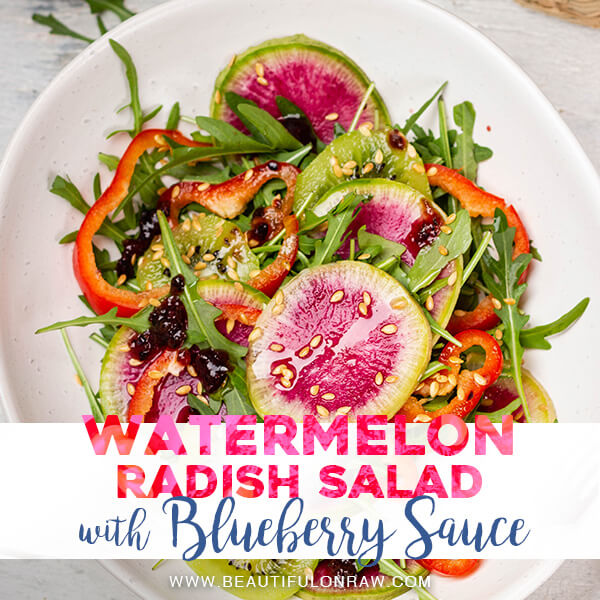 This bright salad with an unusual berry dressing will be a spring favorite. Bright, juicy, crisp, and refreshing! Not familiar with watermelon radish? Another name is heirloom Chinese daikon radish. So, you'll easily find it in Asian stores in spring or late fall. It does taste like a radish, with just a hint of sweetness. It will perk up any salad, by giving it a festive colorful look.
Recipe Author: Beautiful On Raw
Preparation Time: 15 min
Serves: 2
---
Ingredients for salad:
2 cups of arugula
2 or 3 watermelon radishes
1/2 bell pepper
1/2 kiwi fruit
Ingredients for dressing:
2 Tbsp apple cider vinegar
1 Tbsp raw honey
1/4 cup blueberries or other berries of your choice
7 mint leaves
1 Tbsp flax seeds
pinch of sea salt
Directions:
Process all the dressing ingredients in a food processor until smooth. Set aside. Combine arugula leaves and chopped bell pepper in a large bowl. Peel and slice watermelon radish and kiwi fruit thinly and add to the salad. Pour the dressing over the salad and sprinkle with flax seeds. Now you're ready to enjoy this salad delicacy!
Ingredients: watermelon radish, Arugula, kiwi, red bell pepper, blueberry, flax seeds
Recipe Type: Salad