Pomodoro Lasagna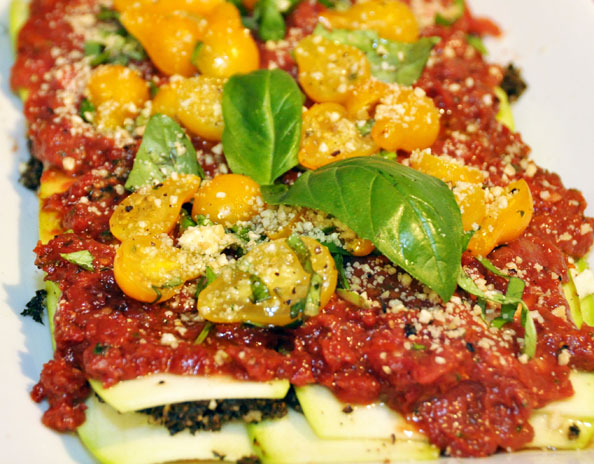 The recipe is easy to make, and it goes together quicker than it looks so please don't let the list of ingredients put you off. This is a delicious dish and well worth making. For best results, plan this dish a couple days ahead so the cheese can ferment. Recipe generously submitted by Mimi Kirk of youngonrawfood.com
Recipe Author: Mimi Kirk
Preparation Time: 75
Serves: 6
---
For the Noodles
3–4 large, wide zucchinis
Peel and slice the zucchinis using a mandolin slicer or thinly with a sharp knife. You will need enough zucchini strips for four layers. When making in individual dishes use 8 slices per serving. This will make 4 layers. For the Cheese
2 cups cashews, soaked for 4 hours
1 teaspoon probiotic powder (to help fermenting and curing process)
3 tablespoon of nutritional yeast (not raw but good source of B12)
1 teaspoon lemon juice
A good pinch or two of Himalayan salt
Filtered water as needed—approximately ¾ cup
Blend all ingredients in a high-powered blender until smooth. Start with ½-cup water and add more as needed to make a smooth, thick mixture. (Cheese can be used for lasagna without fermenting). To ferment, place a strainer lined with cheesecloth over a bowl. Scrape cheese mixture from blender into the cheesecloth and fold up the sides to cover the cheese. Place a plate on top of the cheese and a weight just heavy enough to slowly and gently push out the extra liquid. A bowl filled with water works well. Leave cheese on the kitchen counter for 24 hours to culture at room temperature. Remove cheese from the cloth and use immediately or store in a covered container in the refrigerator for 5 days. The portion of the cheese used for lasagna can be seasoned with rosemary, basil, oregano, or other herbs of choice. For the Pesto Layer
2 cups basil, tightly packed
1–2 cloves garlic, cut in half
½ cup walnuts or pine nuts, or ¼ cup of each
Approximately 2–3 tablespoons of extra-virgin olive oil
Generous pinch or two of Himalayan salt
Place the nuts and garlic in a food processor and pulse until broken down into small pieces. Add basil and salt; pulse while slowly adding olive oil through the feed tube until smooth and creamy. Taste for saltiness and adjust to taste. Transfer the pesto to a mixing bowl. (You do not have to rinse the food processor from the pesto residue before making the Red Pasta Sauce below.) For the Red Pasta Sauce Layer
2 cups tomatoes cut into quarters
1 ½ cups sun-dried tomatoes, soaked for 1 hour or until soft
2 cloves garlic, cut in half
1 tablespoon gluten-free tamari, nama shoyu, or Bragg's
1 ½  tablespoons of Italian herbs, consisting of thyme, rosemary, basil, marjoram and oregano
Good pinch or two of Himalayan salt
Freshly milled pepper
If you like a little spice, add a pinch of dried chilies or a tiny piece of chopped jalapeño pepper.
Place the sun-dried tomatoes in a food processor and pulse a few times to break down slightly; add the fresh tomatoes, garlic, tamari, salt, pepper, and herbs. Pulse until well combined. The sauce should be thick and slightly chunky. For Layers
1 cup raw black or green olives sliced and ½ cup capers. Set aside for assembly.
1 cup thinly sliced baby bella (Portobello) mushrooms, marinated in tamari and olive oil for 10-15 minutes.
To Assemble
Choose a large baking dish or individual dishes for each person. Place a thin layer of red sauce on the bottom of the dish. For large baking dish, cover sauce with approximately 6 strips of sliced zucchini noodles, slightly overlapping. For individual servings lay 2 wide strips on bottom to cover the sauce. Place side by side slightly overlapping.
Top with dollops of cheese to cover the noodles.
Place second layer of overlapped noodles on top of cheese and press down lightly. Sprinkle raw sliced black olives and capers on the top of the second layer.
Place a third layer of noodles on top of the olive caper layer and cover the layer with pesto. Place marinated mushrooms on top of the pesto.
Place a fourth layer of noodles on top of the pesto, mushroom layer and lightly press down. Cover this layer with a generous amount of red sauce.
To top the lasagna, cut 1½ cups heirloom cherry tomatoes in half. Marinate for 15 minutes in 1 clove crushed garlic, a few dashes of olive oil, ribbon-cut basil, salt and pepper, and mix lightly to incorporate flavors. Place mixture on top of the lasagna with extra sliced basil.
Parmesan Nut Cheese Topping Place a generous handful of cashews (not soaked) in your food processor, add 1 clove garlic and a generous pinch or two of salt. Pulse until it looks like grated Parmesan cheese. Sprinkle on top of lasagna. Preheat dehydrator to 115 degrees. Remove unnecessary shelves and place the lasagna plates on remaining shelves. Dehydrate for 1–3 hours or until lasagna is warmed through. To Serve If using a large baking dish, cut with a very sharp knife and make individual servings. Decorate the plate with a teaspoon of pine nuts, capers, and chopped basil. Serve immediately. Tip: If necessary, may be warmed up in the oven on lowest temperature with the oven door ajar. Cover with foil before baking. Check in 10 minutes to make sure you do not "cook" the dish. You can check to see that the zucchini and the sauce are both warm and not overdone.
Ingredients: basil, cashew, garlic, lemon, mushrooms, olives, sundried tomato, tomato, walnut, zucchini
Recipe Type: Main Course