Spicy and Sweet Cabbage Salad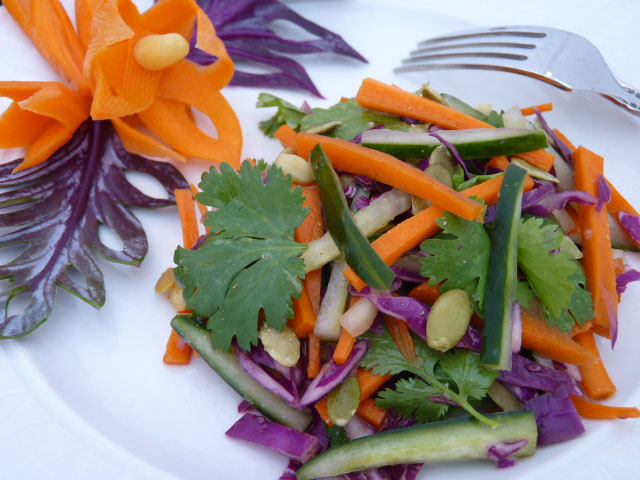 Spicy citrus dressing combined with summer vegetables makes it more than just a salad: it makes it an experience.  Light and refreshing, it's also quick to make, especially if you can delegate the chore of chopping to your food processor.
Recipe Author: Beautiful on Raw
Preparation Time: 25
Serves: 2
---
Ingredients:
1 cup red cabbage, thinly sliced
1 cup carrots, thinly sliced
1 cup cucumbers, thinly sliced
¼ cup pumpkin seeds, soaked and dried
¼ cup (tightly packed) cilantro, leaves only
2 tsp. freshly squeezed lemon juice
2 ½  Tbsp. freshly squeezed orange juice
¼ tsp. Celtic sea salt, or to taste
¼ tsp. ground cumin
small pinch cayenne pepper
Combine the first five ingredients in a bowl and gently toss until mixed. Place the remaining five ingredients in a small bottle and shake well. Pour over the vegetables and serve.
Ingredients: carrot, cilantro, cucumber, lemon, orange, pumpkin seeds, red cabbage
Recipe Type: Salad