Veggie Tower with Garlic Walnut Dressing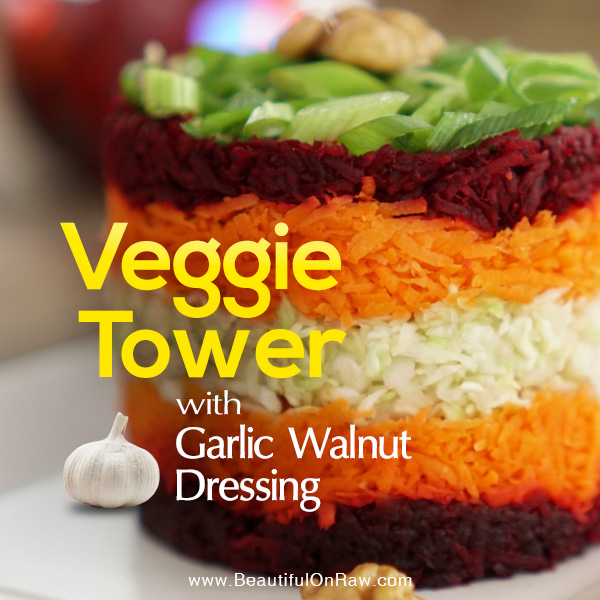 Simple ingredients in simple combination make for rich vegetable flavors and robust enjoyment. Easy and quick! 
Recipe Author: Beautiful On Raw
Preparation Time: 20 min
Serves: 2
---
Ingredients:
ž1 cup of shredded carrot
ž1 cup of shredded beets
ž1 cup of shredded cabbage
ž1 sliced green onion
Dressing:
ž2 Tbsp of lemon juice
ž1/4 cup of olive oil
ž1 clove of garlic
ž1 Tbsp of honey
ž1 Tbsp of raw apple cider vinegar
ž1/4 cup of raw walnuts
žSalt and pepper to taste     
Directions:
Use a small shredder for carrots and beets. Use a bigger shredder for the cabbage. Squeeze some juice out of the carrots and beets, so it is not too wet. (Save that juice to add later to a smoothie.) Take a small round cake mold and start arranging layers in any order you like. Top with green onions. For your dressing, mix all ingredients in a blender until smooth.  Serve it on the side or pour over the salad. Enjoy!
Ingredients: beets, green cabbage, carrot, walnut, lemon juice
Recipe Type: Salad