Raw Cashew Chocolate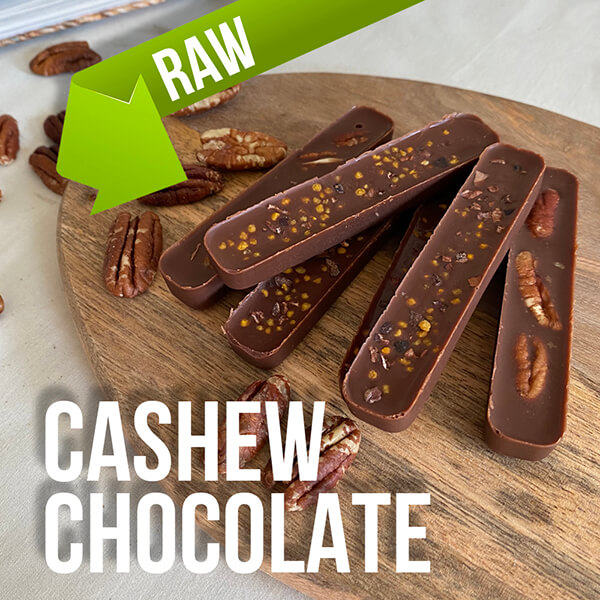 Chocoholics got it rough, transitioning to raw foods. I sure did. Took me two days to give up meat…And it took me two years to give up chocolate.
Most days, you might be eating pretty healthy. But some days, you just gotta have a fix. This recipe is much healthier than anything you can get from a store. Just an occasional treat—not for every day!
Recipe Author: Beautiful on Raw
Preparation Time: 20 min
Serves: 2-3
---
Ingredients: 
⅔ cup raw cocoa butter
3 Tbsp raw cashew butter
½ cup raw cocoa powder
1 tsp bee pollen
2 Tbsp raw honey
1 Tbsp raw cocoa nibs
Grate the cocoa butter and put it in a bowl. Let the grated cocoa butter melt for about an hour in a warm place. Meanwhile, let the cashew butter stand at room temperature for an hour. When the cocoa butter begins to melt, add the cashew butter and cocoa powder to the bowl and mix thoroughly. Add raw honey to the cashew chocolate mass.
Pour the cashew chocolate into molds of your choice. Sprinkle cocoa nibs and bee pollen on top. Put the cashew chocolate in the freezer for at least an hour. Then you can store it in the fridge.
Optional: Add your favorite nuts or seeds to the chocolate.
Ingredients: cacao powder, cashew, raw honey
Recipe Type: Dessert