Raw Coconut Shots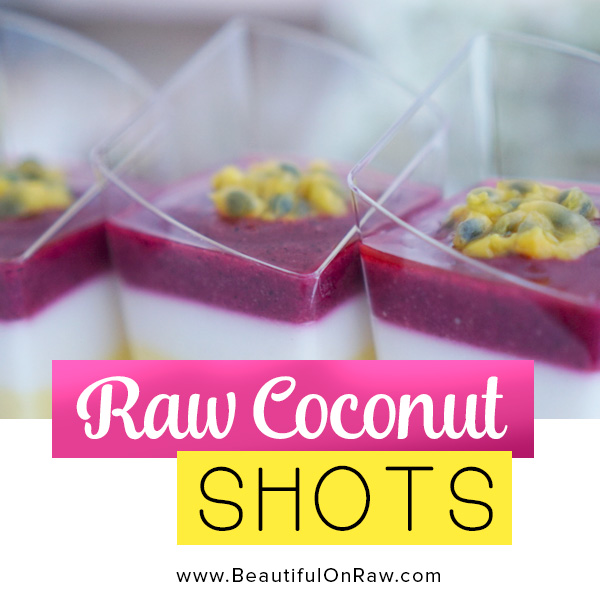 Here's a truly elegant dessert you might find in a high-end hotel, blending pricey bar shots and the scrumptious, forbidden flavors of a top restaurant. You'll thrill your guests and leave them wondering how you did it. Yet it's so easy…
Recipe Author: Beautiful On Raw
Preparation Time: 30 min
Serves: 4
---
Ingredients:
ž   1 medium size passion fruit
ž   1 small red dragon fruit
Directions:
Drain the water from the coconuts. Open them up and remove the coconut flesh. Blend flesh from one coconut with a dash of coconut water.  Mix well until smooth and creamy.  Scoop the mixture into a small Ziploc bag. Blend the second coconut same way with the passion fruit juice and place in a Ziploc bag. Blend dragon fruit with banana and honey, and place in a third Ziploc bag.
Now we can assemble our mixes into dessert shot glasses. Cut the corner of each Ziploc bag in turn. Squeeze out the first (coconut and coconut water) mixture into the bottoms of the glasses. The second mixture (coconut and passion fruit juice) will be the middle layer. The third (dragon fruit) mixture will serve as our top layer. Seeds from the passion fruit are edible and can go on top for extra flavor and crunch. Enjoy!
Ingredients: coconut, passion fruit, banana, dragon fruit
Recipe Type: Dessert