Mini Pecan Pies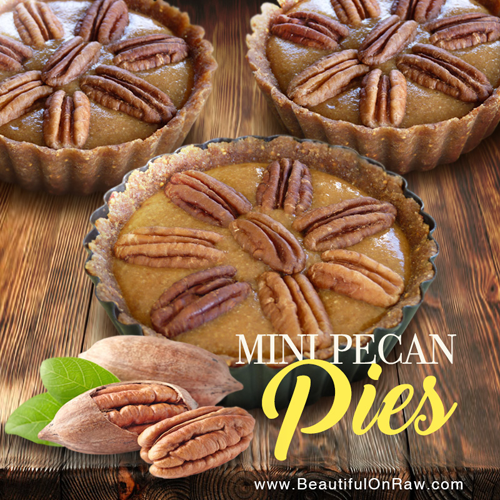 Holiday time or anytime, the pecan pie is one of America's favorites. If you're a fan, here's a raw version just in time for the holidays.
Recipe Author: Beautiful on Raw
Preparation Time: 30 minutes, plus soaking and dehydrating time.
Serves: makes 3 or 4 mini pies.
---
Ingredients for crust:
1 cup flax seeds, ground
¾ cup Medjool dates and/or figs, soaked and squeezed dry
pinch of sea salt.
Ingredients for filling:
2 cups plums or peaches or both, peeled, pits removed and cut into pieces
1 banana, peeled and chopped
2 Tbsp. flax seeds, ground
¼ cup raisins
½ cup pecans, soaked and dehydrated.
honey or lemon juice (optional).
Directions:
Make the crust by blending ingredients in a food processor till the dough starts forming a sticky ball. Using 4-inch tart pans with detachable bottoms, form the pies' crusts by pressing the dough into the bottom and sides of the tart pans, and set aside.
Make the filling by blending together plums or peaches, banana, flax seeds, and raisins in a blender. If the raisins are too dry, let them sit in pre-blended plums or peaches in a blender for a little, then blend them in once they soften. Adjust the filling's taste by adding a little honey or lemon juice. Pour the filling into the crusts, arrange the pecan nuts on top, cover, and refrigerate for a few hours to settle before serving.
Ingredients: flax seeds, Medjool date, sea salt, plums, peaches, banana, raisins, pecans, honey, lemon juice
Recipe Type: Dessert