Raw Ramen Soup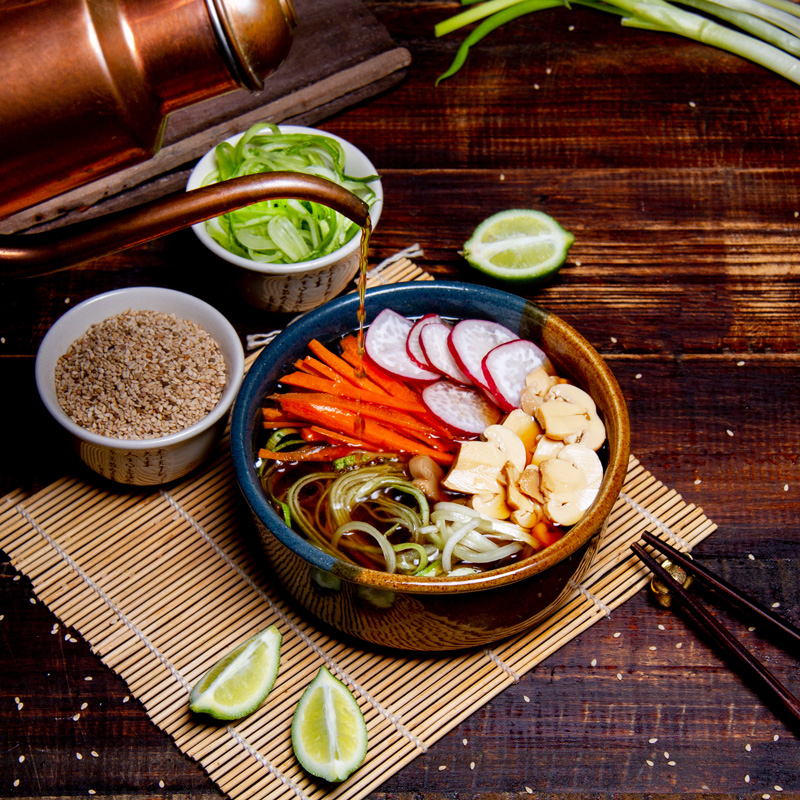 Ramen traditionally is wheat noodles served in a warm meat broth. Practically none of the ingredients are on my diet. Let us take a traditional recipe and create something with the spirit of the original recipe but filled with raw healthiness, wholeness, and goodness.  "Raw equals cold." That's what so many raw food recipes imply. But here's a scrumptious recipe with an Asian charm and a welcome warmth.
Recipe Author: Beautiful on Raw
Preparation Time: 20 min
Serves: 2
---
Ingredients:
1 medium zucchini
1 medium carrot
1 cup mushrooms
1 radish
1 avocado
1 clove garlic, crushed
2 cups of water
2 Tbsp coconut aminos
1 tsp tamarind paste
1-inch piece of fresh ginger
1 tsp sesame seeds (optional)
fresh herbs of your choice—perhaps parsley, coriander, or mint,
salt to taste
Instructions:
Wash the zucchini very well, removing the stem. Then cut it into noodles with a spiralizer or with the coarse section of a cheese grater. Peel the carrot and cut it into very thin strips. Wash the radish and cut it into thin slices. Wash the chives and slice them thin. Peel the garlic and mash it. Peel the ginger and grate it. Peel the avocado, extract the seed, and cut into slices.
Divide the vegetables into two bowls. Add a bed of zucchini noodles in each bowl. On the side, lay the carrot in thin strips. Then add the radish and mushrooms. For the ramen to look good, you need to organize the ingredients in the bowl as artfully as you can. Last, add the avocado.
For the broth, combine, in a mixing cup, two cups of warm water with the coconut aminos, grated ginger, crushed garlic, and salt to taste. If you like, add a little tamarind paste. Stir very well. Fill the bowls with the warm broth you've just made.
Sprinkle on some chopped chives and sesame seeds. If you wish, you can add a sprinkle of aromatic herb or a garnish of fresh mint.
Ingredients: zucchini, carrot, mushrooms, radish, avocado, garlic, ginger root, sesame seed
Recipe Type: Soup