Raw Oatmeal-Date Cookies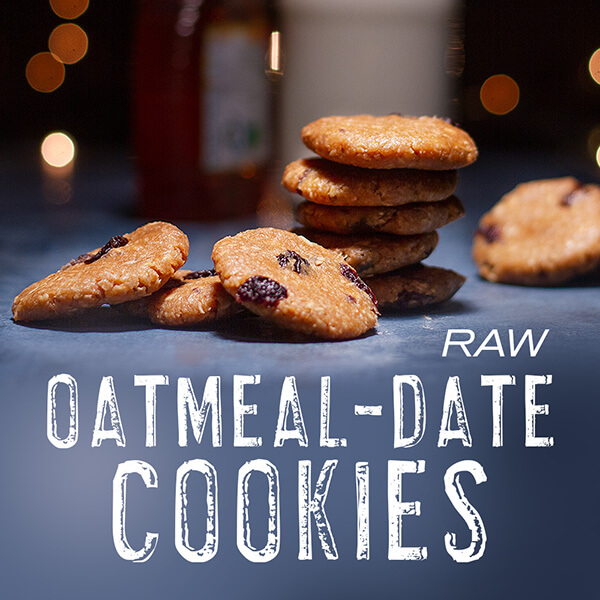 There are many substitutes for wheat flour. My favourite is oatmeal. But you can also use almond flour, cashew flour, or coconut flour. All these flours can be eaten raw and are delicious.
Recipe Author: Beautiful on Raw
Preparation Time: 15 min
Serves: 12
---
Ingredients:
1 ½ cup of rolled oats
12 dates, seeded
3 tablespoons of peanut butter, almond butter, or hazelnut butter
1 tsp of vanilla essence a handful of raisins
Instructions:
Place the rolled oats in a food processor and blend until flour is formed. Then add the dates, vanilla, honey, and nut butter. Process everything together again, until well combined.
Remove the dough from the food processor. Place it in a mixing bowl and add the raisins. Knead for a couple of minutes until the mix is fully integrated.
When ready, roll it into a ball and put it on wax paper. Put another wax paper on the ball and with the help of a roller, spread the ball evenly until you get a thickness of about 3 mm or 1/8 inch. With a cookie cutter, place your cookies as close together as possible.
Roll the cut outs into a ball and do the same procedure again until you finish the dough. Carefully remove the cookies and set on a plate. Refrigerate for a couple of hours and enjoy.
Ingredients: oats, dates, almond butter, raw honey
Recipe Type: Dessert