Kale Buckwheat Burger Sandwich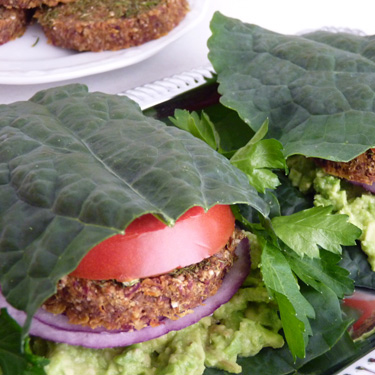 Make a few of these raw-vegan buckwheat burgers on the weekend, and you'll have some quick, easy, and filling sandwiches to eat for lunch on weekdays.
Recipe Author: Beautiful on Raw
Preparation Time: 30
Serves: 4
---
Ingredients for burgers:
1 ½ cups sprouted buckwheat groats
2 carrots, grated
1/4 cup flaxseeds, ground in a coffee grinder
2 garlic cloves, finely chopped
½ tsp. ground cumin
½ tsp. Celtic sea salt
1 tsp. ground coriander seeds
2 tsp. dried dill weed.
Ingredients for sandwiches:
a handful of herbs to taste (parsley, cilantro, dill, etc.)
a few dinosaur kale leaves
1-2 tomatoes
½ red onion
2 avocados, peeled, pit removed
1 -2 Tbsp fresh lemon juice
Celtic sea salt to taste.
Prepare the burger mix by blending buckwheat, carrots, garlic, cumin, coriander, and salt in a food processor until well ground and mixed. Transfer to a bowl. Add ground flax seeds and thoroughly mix in with a spoon. Form the burgers, using your hands or a round cookie cutter. Sprinkle them with dried dill, and place on a Teflex sheet in the dehydrator at 40º F for 6 to 7 hours, transferring the burgers directly onto the mesh sheets after an hour or two. While the burgers are in the dehydrator, mash avocados with a fork, add lemon juice and sea salt to make an avocado spread. Cut onions into rings and slice tomatoes. Cut kale leaves into pieces in sizes slightly bigger than the burgers, trimming off any thick stems. To assemble the sandwich, place a kale leaf on a serving plate, spread some of the avocado mixture, add onion, burger, tomato, and cover with another piece of kale. Tuck in some herb sprigs. Enjoy.
Note: Preparation time is 30 minutes, plus time for soaking, sprouting and dehydrating.
Ingredients: buckwheat, kale, carrot, lemon, avocado, tomato, red onion, garlic, flax seeds
Recipe Type: Main Course