Tropical Fruit Slushie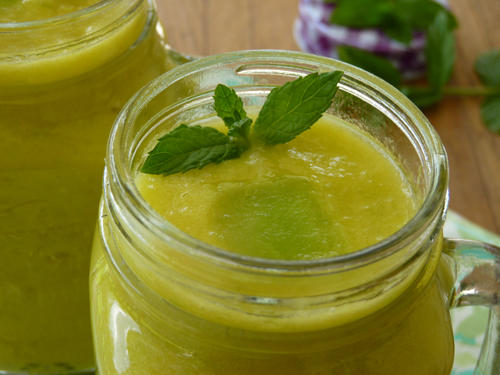 We may not ever make that trip to the tropics. But we surely can lounge in a hammock with a cold tropical fruit drink, and enjoy the long summer days.
Recipe Author: Beautiful on Raw
Preparation Time: 15 min. plus time for freezing the fruits
Serves: 2 to 3
---
Ingredients:
1 mango, peeled, cubed, pit removed
2 cups peeled and chopped pineapple
4 cups honeydew melon, peeled, seeds removed and chopped
1/3 cup of fresh lime juice
Directions:
Place the cut fruits (except lime juice) in the freezer for 7 hours or more. Combine the frozen fruit and lime juice in a good blender, reserving about a cup of honeydew chunks to mix in later. Blend on medium to medium-high, making sure the blender doesn't run on high too long, heating up the drink. Manually mix in honeydew cubes. Transfer the slushie to mugs or jars. Enjoy!
Ingredients: mango, pineapple, honeydew melon, lime juice
Recipe Type: Smoothie