Zucchini Avocado Marinade Rolls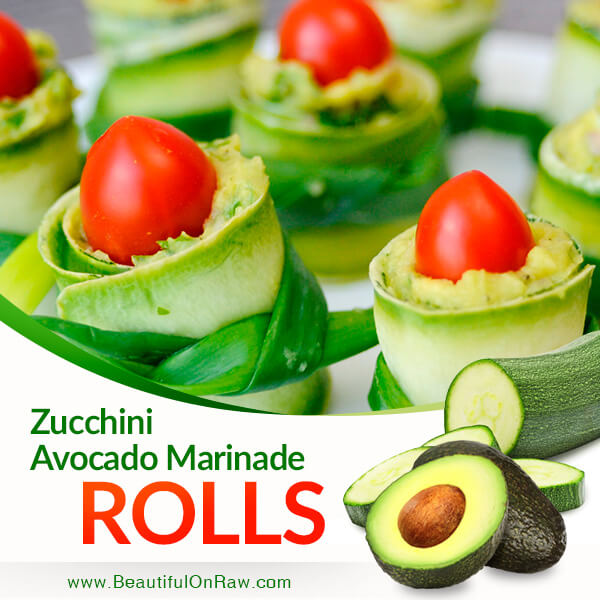 Call it a marinade wrap, call it a salad roll, call it a garnish. Whatever the name, you'll enjoy the blend of zucchini, avocado, tomato, and other flavors and textures in this creative mix.
Recipe Author: Beautiful On Raw
Preparation Time: 30 min
Serves: 2
---
Ingredients:
ž 1 medium zucchini
 1 medium avocado
 1 Tbsp. fresh lemon juice
 4 Tbsp. pine nuts
 ½ shallot, minced
 ½ small bunch parsley
 Himalayan salt to taste
For serving:
ž1 small bunch green onions
½ cup cherry tomatoes
For marinade:
ž 1/2 piece (2-inches) fresh ginger, peeled and minced
 2 Tbsp. raw apple cider vinegar
 1 Tbsp. fresh lemon juice
 1 Tbsp. raw honey
Directions:
Chop the ends off the zucchini. With a vegetable peeler, cut the zucchini into long, thin ribbons, 8 to 10 inches long. Sprinkle with salt, and let sit for 10 to 20 minutes. Rinse and drain after.
In a small bowl mix together the ginger, vinegar, lemon juice, and honey. Drizzle the mixture over the zucchini ribbons and leave to marinate. Refrigerate for two to six hours.
Using a spoon, scoop the flesh of the avocados into a food processor. Add the cilantro, lime juice, pine nuts, shallot parsley, and salt to taste. Process until the sauce is smooth and creamy.
On a flat surface, lay out the zucchini ribbons flat, put about 1 tablespoon of the avocado mix on each strip. Gently roll and add one cherry tomato on each, securing the rolls with green onions.
Ingredients: zucchini, pine nuts, cherry tomatoes, avocado
Recipe Type: Appetizer