Apricot Plum Taco Salad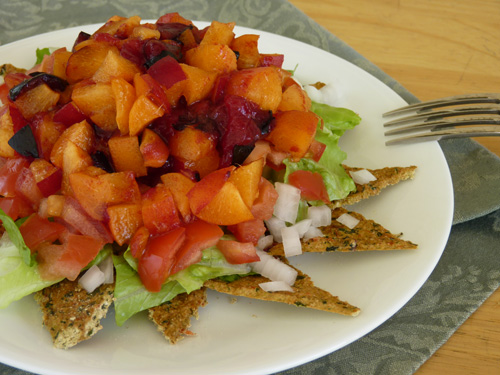 This salad tastes great with any kind of chips…with or without any dressing!
Recipe Author: Beautiful on Raw
Preparation Time: 15 minutes
Serves: 3
---
Ingredients:
For chips:
1 cup sprouted buckwheat groats
1 cup zucchini, chopped
½ red bell pepper, stem and seeds removed
¼ cup parsley leaves, chopped
1 or 2 leaves of Swiss chard, chopped
2 Medjool dates, pits removed, soaked and chopped
1 tsp. celtic sea salt
For salad:
6 romaine lettuce leaves, torn apart
¼ cup white onions, chopped
3 tomatoes, chopped
3 plums, pits removed and chopped
6 apricots, pits removed, chopped.
Directions:
You'll want chips with this one. Use your favorite raw chips recipe, or make the chips offered here. Wash and soak buckwheat (unroasted) for 1 to 2 hours, drain, and leave to sprout for a day or longer, rinsing several times a day. Keep in the refrigerator overnight. The buckwheat is ready to use when you see a small "tail" coming out of the grain. Grind buckwheat and dates in a food processor. Add zucchini, pepper, salt, lemon juice, parsley, and chard. Process till you get a smooth mixture. With a spatula, evenly spread the batter on a Teflex sheet of your dehydrator. Score with a knife into rectangles or triangles and dry at 105º F for several hours until done to your taste, turning onto mesh trays half way to complete drying.
For the salad, arrange chips on a plate, add torn lettuce for next layer, followed by tomatoes, onions, and a mix of chopped apricots and plums.
Ingredients: buckwheat, zucchini, red bell pepper, parsley, swiss chard, Medjool date, sea salt, lemon juice
Recipe Type: Salad