Banana Cream Apple Stacks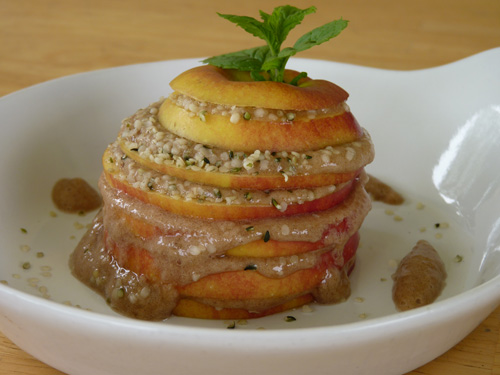 A variety of textures in each bite and the appealing look of this simple dish offer total satisfaction to the palate when served as a dessert or a breakfast meal.
Recipe Author: Beautiful on Raw
Preparation Time: 15
Serves: 3
---
Ingredients:
3 apples, cores removed, and sliced horizontally into circles
2 ripe bananas, peeled
½ tsp ground cinnamon
1/8 – 1/4 cup raw shelled hemp seeds
Place bananas and cinnamon in a food processor or blender, and blend until smooth and creamy. Arrange slices of apple on a plate, spreading the banana mix on each one and sprinkling with hemp seeds. Repeat with all the slices.
Ingredients: apple, banana, cinnamon, hemp seeds
Recipe Type: Dessert