Fermented Beets and Carrots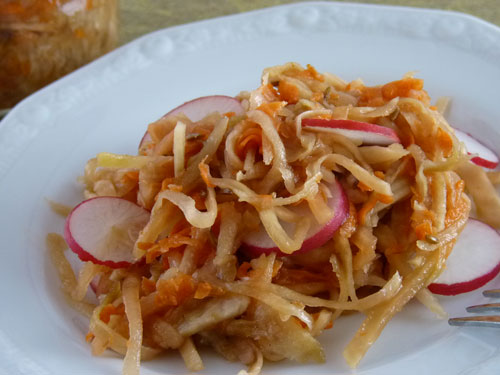 Fermented veggies promote good digestion and healthy gut flora, and even make some nutrients more bioavailable. Your colon, heart, liver and skin will love the beets and carrots whose texture and edibility has been boosted by the fermentation process, with the taste transformed from sweet to savory.
Recipe Author: Beautiful on Raw
Preparation Time: 45
Serves: 8
---
Ingredients for one wide mouth quart size jar:
4 cups peeled and shredded beets (Chioggia beets were used for this recipe),
2-3 cups carrots, shredded
1 1/2 cups water
1  Tbs. sea salt
1 Tbs. caraway seeds
Mix together the shredded beets and carrots in a bowl. To make the brine, combine a handful of shredded vegetables, water, salt and caraway seeds in a food processor and process together. Pour into the bowl of the remaining shredded vegetables, and mix in. Using a spoon and your clean hands, pack the mixture into a clean jar very tightly, pressing down with your fist as you add more. The brine should completely cover the vegetables. Add more water if necessary, so there is a liquid layer over the vegetables. You can roll a kale or cabbage leaf and place it on top of your mix right under the lid to provide pressure to keep your veggies submerged in the brine. Screw the lid on, but not tightly, cover with a kitchen towel, and leave the jar on a plate or tray on the kitchen counter for a few days to ferment. The vegetables will expand as they ferment, so the plate or tray will catch any spillage. Check the jars every day or so to make sure the veggies are still covered with the brine, and are developing a pleasant sour smell. The fermentation time will depend greatly on the quality of your vegetables and the temperature where the jars are kept. When you feel the vegetables are marinated to your taste, move them to the refrigerator. Add fermented veggies to your salads, or serve with your meals as a side dish. Note: Preparation time is 45 minutes plus time for fermentation.
Recipe Type: Salad