Sweet and Sour Kale Salad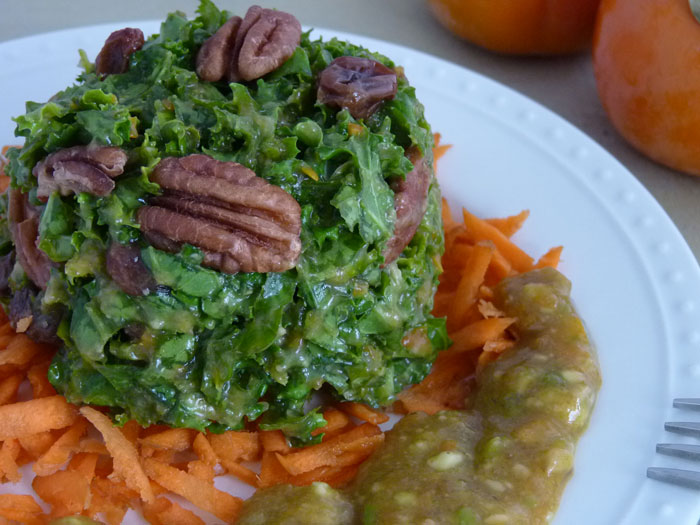 Kale never goes out of fashion: it is your "dark leafy green health insurance" in a bunch. This nutritional powerhouse is available at the stores year-round, and is a rich source of Vitamins A and C, calcium, manganese, lutein and iron.
Recipe Author: Beautiful on Raw
Preparation Time: 25
Serves: 2
---
Ingredients for the salad:
3 cups of packed kale leaves, thinly shredded
2 Tbs. freshly squeezed lemon juice
½ cup pecans, soaked overnight
1/3 cup raisins, pre-soaked
shredded carrots for garnishing, if desired
Ingredients for the dressing:
2 ripe persimmons
juice of 1 orange
pinch sea salt
hot pepper to taste, finely chopped
1 Tbs. freshly squeezed lemon juice
1 avocado, peeled and pit removed
Pour lemon juice into a bowl with the kale leaves, and massage the leaves with your hands to achieve the "wilted" look. Leave for 20-30 min. to marinate. Prepare the dressing by combining all the ingredients in a food processor, and blend until well mixed. Add salad dressing to the kale, and thoroughly mix it in until all the kale leaves are covered. Add raisins and pecans, stir once again, and serve on a bed of shredded carrots for a splash of color. Note: Preparation time is 25 minutes plus soaking time.
Ingredients: avocado, carrot, kale, lemon, orange, pecans, persimmon, raisins
Recipe Type: Salad