Lettuce Tepee with Brazil Nut Pate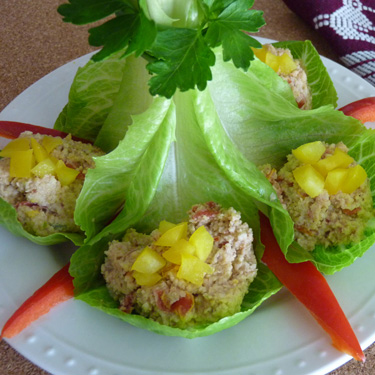 ---
Ingredients:
1 cup brazil nuts, soaked and dehydrated

2 celery stems, chopped

½ cup sundried tomatoes, soaked for 30 minutes, drained

1 cup yellow summer squash, mashed

1 or 2 tsp fresh lime juice

½ tsp Celtic sea salt, or to taste

a little Jalapeno pepper, minced (optional)

about 10 romaine lettuce leaves

parsley, green onion, red and yellow bell peppers for garnish.
To make the pate, grind brazil nuts in a food processor until they turn into crumbs. Add celery, tomatoes, squash, lime juice, salt, and jalapeno pepper, and process until you get a mixture resembling a thick pate consistency.
To arrange on a plate, place 5 lettuce leaves with their backs toward each other, stems together, forming a "tepee." Wrap a long green onion around the stems of the lettuce leaves to hold them together and secure the ends. Tuck a few parsley sprigs to hide the ends of the leaves. Place the pate on the end of each lettuce leaf and garnish with chopped yellow pepper. Add red pepper strips to the plate for more color.
Note: Preparation time is 20 minutes plus soaking and dehydrating time.
Ingredients: lettuce, celery, sundried tomato, squash, lime, hot pepper, parsley, green onion, sweet pepper