Carrot Burger Patties with Savory Seeds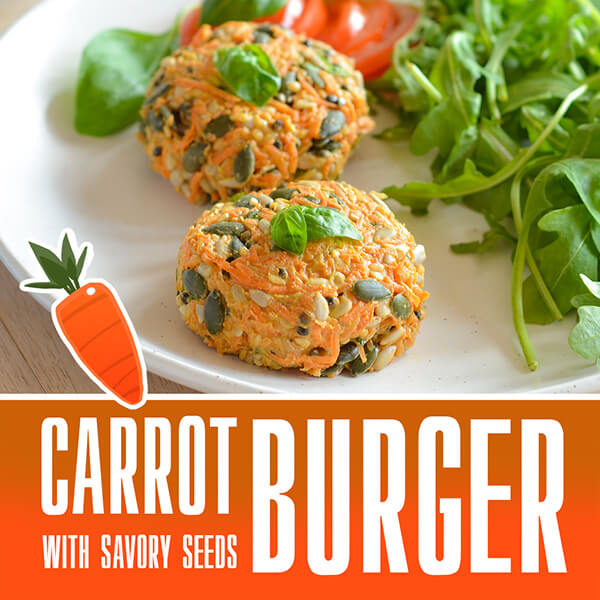 A great transitional recipe for those anywhere "in-between" on their journey toward a completely raw food lifestyle. These burgers are completely raw. But they do recall the look and feel of those old backyard burger days, even as they give the hamburger a bad name with their healthy, delicious goodness.
Recipe Author: Beautiful on Raw
Preparation Time: 15 min
Serves: 2
---
Ingredients: Makes 4 small patties
For the patties:
1 cup carrot, grated
2 Tbsp unsweetened almond butter 
1 garlic clove, minced
¼ cup mixed seeds
¼ tsp. salt pinch of black pepper
4 Tbsp fresh herbs, chopped
For the side salad:
1 cup arugula leaves
1 tomato, sliced
1 Tbsp olive oil pinch of salt
pinch of Pepper fresh
basil leaves
Directions: 
Soak seeds in water overnight. Then drain, removing all the liquid. In a bowl, combine carrot, almond butter, garlic, seeds, salt, pepper, and herbs. Make small patties. Prepare the side Salad: Combine all ingredients in a bowl and mix well to incorporate the spices. Serve on the side.
Ingredients: carrot, almond butter, Arugula, tomato
Recipe Type: Main Course