Layered Zucchini Basil Stacks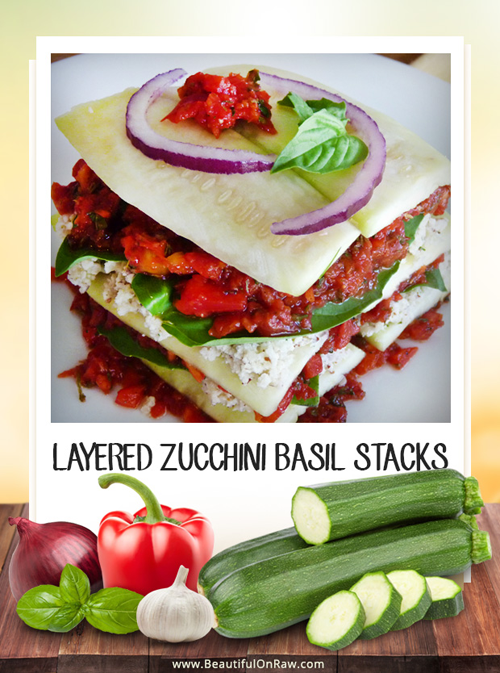 This lasagna-style dish makes a complete meal, and it is festive enough for special occasions with friends and family. The recipe makes enough Brazil nut pate for several servings.
Recipe Author: Beautiful on Raw
Preparation Time: 30 min. plus time for soaking
Serves: 1
---
Ingredients:
1 zucchini, cut into six 1.5" x 3.5" rectangles
4-6 basil leaves
For Brazil Nut Pate:
1 cup Brazil nuts, soaked for a few hours
1 garlic clove, peeled and chopped
½ tsp. Celtic sea salt
1 Tbsp. fresh lemon juice
2 Tbsp. water from soaked tomatoes
½ cup zucchini, cut into pieces
1 Tbsp. purple onion, finely chopped
For Chunky Marinara Sauce:
½ cup dried tomatoes, soaked for an hour or so
½ red bell pepper, chopped
¼- ½ tsp. Celtic sea salt
pinch black pepper
1 tsp. dried oregano
1 tsp. dried thyme
Directions:
Prepare Brazil nut pate by placing all the ingredients in a food processor, blending until well ground and mixed together. Transfer to a bowl. Make chunky marinara sauce by blending the ingredients in a food processor, leaving the mixture a little chunky in texture. To assemble the stack, spread a little marinara sauce on the bottom, then place a couple of zucchini rectangles, followed by pate, a couple of basil leaves, and more marinara. Repeat the layers again, finishing with zucchini. Garnish with marinara sauce, basil leaves, and onions.
Ingredients: zucchini, basil leaves, Brazil nut, garlic, sea salt, lemon juice, purple onion, dried tomato, red bell pepper, black pepper, oregano, thyme
Recipe Type: Appetizer