Veggie Kebabs in Pineapple Spice Marinade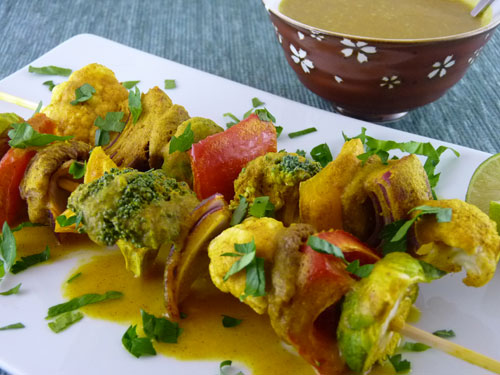 Kebabs are a fun way to eat vegetables for both kids and kids-at-heart. You can customize the vegetable selection based on your family's preferences and seasonal availability.
Recipe Author: Beautiful on Raw
Preparation Time: 40
Serves: 6
---
Ingredients for marinade:
1 cup freshly squeezed apple juice
2 cups pineapple, cut into chunks
juice of 1 lime
1-2 tsp. finely diced ginger
1 tsp. turmeric powder
1 tsp. ground allspice
pinch of ground cayenne pepper
Vegetables and fruits for kebabs:
broccoli florets
cauliflower florets
yellow bell pepper chunks
red bell pepper chunks
Brussels sprouts halves
¼ cup dried apricots, pre-soaked for 2 hours
(other ideas for vegetables to use: zucchini, yellow squash, radishes, turnips, beets, carrots, mushrooms, cherry tomatoes, anise, daikon, cabbage, etc.) Pre-soak 6 bamboo skewers in water for 30 min. Prepare the marinade by combining all the ingredients in a blender, and thoroughly blending them together. Skewer the vegetables and apricots, alternating colors, and place the assembled kebabs in a wide dish with the rim. Pour the marinade over the kebabs, making sure all the vegetables get covered with the marinade. Leave on the counter for 1-3 hours as time permits, occasionally rotating the kebabs in a dish, and basting the veggies with the marinade. Place the kebabs in a dehydrator at 105 F for 2 hours to soften the veggies. Use the marinade as a salad dressing for another dish, or spoon it over the kebabs for an extra zing when serving. Sprinkle with finely chopped parsley. Note: Preparation time is 40 minutes plus time for soaking, marinating and dehydrating.
Ingredients: apple, broccoli, cauliflower, ginger root, hot pepper, lime, pineapple, sweet pepper
Recipe Type: Main Course