Raw Vegan-Viet Rice Paper Rolls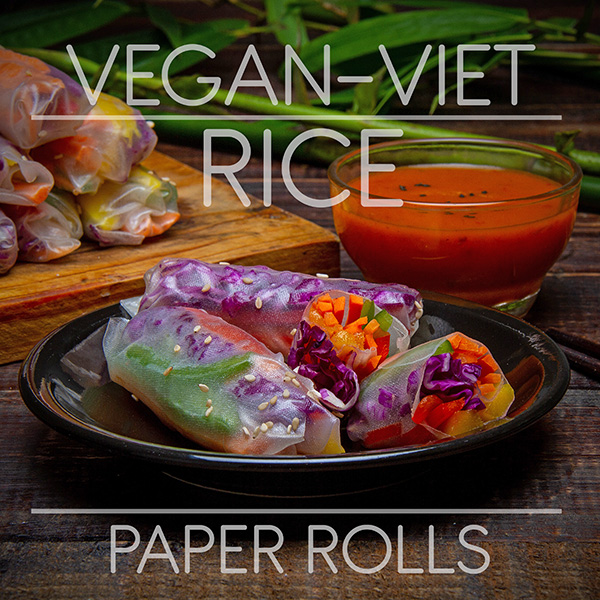 The rolls can be served as an appetizer or as a main course. You can also use a veggie roll as a sandwich replacement. Veggie rolls are also extremely versatile and can be made in endless variations.
I chose the veggies for this recipe. But you can try your own variations. Whatever fruit and veg you have in the fridge will likely yield something great. You'll find rice wafers in many supermarkets and oriental products stores.
These Vietnamese-style rolls are great for taking to parties. Everyone will be impressed.
Recipe Author: Beautiful on Raw
Preparation Time: 15 min
Serves: 2
---
Ingredients:
For the wraps:
8 pieces rice paper wrappers, (round shape recommended, 22 cm or 9-inch)
1 mango
1 carrot
1 red bell pepper
1 green bell pepper
¼ purple cabbage
½ cup wild peanuts
1 Tbsp sesame seeds (optional)
For the sauce:
2 Tbsp tamarind paste
3 Tbsp apple cider vinegar
2 Tbsp raw peanut butter
2 Tbsp olive oil
2 tsp paprika
1 clove garlic
salt to taste
Instructions:
Prepare the vegetables: Peel the mango. Cut it into thin strips. Peel the carrot and cut it into thin sticks like those of the mango. Wash the bell peppers well. Extract the light-colored seeds and veins. Then cut the peppers into thin strips. Make sure all the vegetables are the same length. Finally, chop the cabbage.
Make the sauce: Place all the sauce ingredients in the blender jar. Blend at full speed for a couple of minutes. If you like, make a little extra sauce to place on the raw spring rolls.
Pour half an inch of cold water in a flat pan. Carefully dip a piece of rice paper in the water for 15 to 20 seconds—certainly not longer, lest the paper break. Lay the rice paper carefully on a moistened plate, or on a kitchen towel.
In the center of the rice paper, lay the vegetable strips next to one another. First the carrot, then the mango, the green bell pepper, the red bell pepper, the purple cabbage, and chopped wild peanuts. Add a teaspoon of sauce. Close the rolls. Fold the sides over the filling, making two folds. Then roll up on the opposite side and close. Serve the rolls with sauce.
 
Ingredients: mango, carrot, red bell pepper, red cabbage, peanuts, apple cider vinegar
Recipe Type: Main Course