Rye Sandwich Bread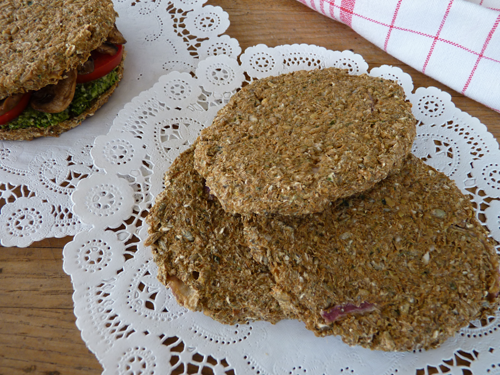 Spend a couple of weekend hours in the kitchen prepping a big supply of rye bread for week's sandwiches and pizza. The rye gives the taste of sourdough bread—perfect for the cold winter months.
Recipe Author: Beautiful on Raw
Preparation Time: 2 hours
Serves: 18-20 bread slices, plus a couple of pizza crusts
---
Ingredients:
3 cups rye grains, soaked overnight and sprouted for about two days until white tails appear
2 cups water
3 cups carrot and spinach pulp left from juicing (any vegetable juice pulp will work)
½ cup ground flax seeds
1 Tbsp. caraway seeds, ground in a coffee grinder
1 ½ tsp. sea salt
½ purple onion, peeled and sliced in half-rings (optional).
Directions:
Rinse the sprouted rye grains. Fit the juicer with a solid plate, and feed the rye through the juicer, adding a little water to the grains to ease the homogenizing process and to prevent the juicer from overheating. If your juicer does not come with this option, you can use a meat grinder or a high-powered blender to blend rye and water until the rye kernels are broken down. More water may be needed if you use a meat grinder or blender, but the batter shouldn't be too runny.
Add juice pulp, ground flax seeds, ground caraway seeds, and salt to the blended rye and mix well together in the bowl. Mix in onions (optional). Form sandwich-size bread slices in square, oval, or round shapes, or even pizza crusts. They shouldn't be too thin—you're not making crackers!
Place them on parchment sheets in a dehydrator at 145º F for one hour, and switch to 115º F for the remainder of the drying time. Flip them over and remove the parchment sheets midway through the drying process. The bread slices are ready when they are crusty on the outside, and still a little chewy inside, so keep checking while they're drying. When done, store your bread in a plastic ziplock bag or in a covered container in a cold place for up to a week or more.
Ingredients: grains, water, carrot, spinach pulp, flax seeds, caraway seeds, sea salt, onion
Recipe Type: Snack