Shiitake Chowder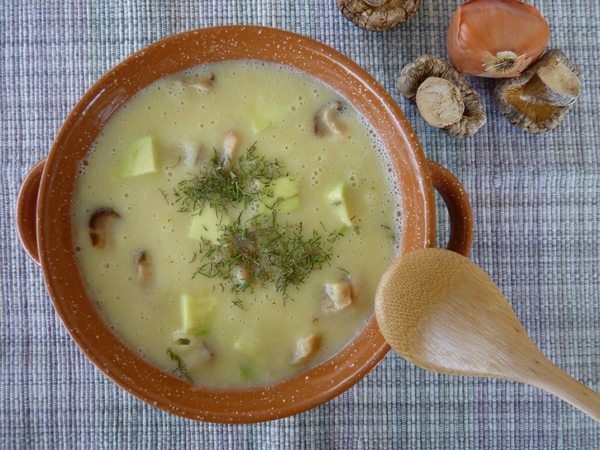 If you ever miss clam chowder, then this soup is for you. It can be served cold or even warmed up in a blender or on a stove top to about 100F.
Recipe Author: Beautiful on Raw
Preparation Time: 25 min.
Serves: 2
---
Ingredients:
4 dried Shiitake mushrooms, soaked overnight
1 cup fresh young coconut water
the "meat" of one young coconut
1 tsp. shallot, peeled and chopped
½ yellow bell pepper, roughly chopped
1 cup parsnip, peeled and chopped
1 avocado, peeled, pit removed and diced into cubes
½ tsp. onion powder
1 tsp. dried dill (or 2 tsp. fresh dill)
Celtic sea salt to taste
dash black pepper
2 tsp. fresh lemon juice
Directions:
Drain the mushrooms, squeeze them well, remove the hard stems, and chop the caps. Marinate mushrooms with lemon juice and a little salt while preparing the soup base. Place coconut water and meat, shallot, onion powder, parsnip, bell pepper, salt, and black pepper in a blender, and blend until very smooth. Adjust salt and pepper to taste. In a bowl, combine mushrooms, avocado and dill, and add the blended mixture. Gently stir together, garnish with dill and serve.
Ingredients: Shiitake mushrooms, coconut water, coconut, yellow bell pepper, parsnip, avocado, onion, dill, sea salt, dash black pepper, lemon juice
Recipe Type: Soup